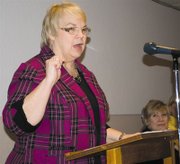 PROSSER - Tanya Gorham, guest speaker at Tuesday's Lower Valley Christian Women's Club meeting in Prosser, has experienced periods of disobedience and struggles throughout her life.
She shared God's revelations to her through a synopsis viewed through "letters" from her great-grandmother, a woman who greatly impacted Gorham.
"My story runs like a drama," Gorham opened, stating her "letters" are like a long-lost treasure found in a dusty closet after deciding to clean. The letters trace the various stages of her life and help her reflect on God's faithfulness throughout it.
She was born in Oregon during WWII, while her father was serving overseas.
"I grew up a 'country bumpkin'," Gorham shared, stating the community in which she grew up was surrounded by wheat and grass fields and her family owned livestock, including horses.
Many evenings were spent with her great-grandmother, who lived nearby.
In one of her letters, her great-grandmother shares how the two shared a cup of coffee in the early mornings. That coffee was mixed with cream and sugar. "Grandma started my latte habit," Gorham injected with humor.
During her time with her great-grandmother Gorham would visit church and her faith began to blossom after the rest of her family also began attending a church of their own.
After moving to Chicago when Gorham was beginning her high school years, she was exposed to experiences unlike those in her small country home.
She wore dresses that were longer than those worn by the girls in the big city. Her hair was not stylish enough and she attended a school with more than 100 students in her graduating class as opposed to approximately 15 in Oregon.
It was during her years of high school, Gorham began to rebel. Her great-grandmother's letters remind her of this change, giving her glimpses of the past.
"God hadn't turned away from me," Gorham shared, stating she did not realize this until after having married.
It was shortly after her marriage, though, that her great-grandmother died. The last letter written to her reveals there would be struggles to be experienced, but through them she would grow.
"When I returned to church, I realized God was still there, ready to forgive me and help me grow in my faith," she shared.
Gorham returned to the church after having four sons whom she wanted to raise in the church.
When the trials of life hit, however, Gorham neglected to trust God.
Her husband was diagnosed with Multiple Sclerosis in 1985 and Gorham began plotting how she might take care of her family in the event that he became severely disabled from the disease.
"I was frightened and angry...my fix-it gene kicked into high gear," she recalled, stating God had a purpose she was yet unaware of.
Gorham found herself struggling with a lung problem that left her severely ill for a year shortly after her husband's diagnosis.
"With my back against the wall, I learned it was time to trust God completely," she said of the time.
Throughout the years following, Gorham said, she learned to accept God's plan and to trust He would carry her through all the trials of life. She learned about His grace and peace through the difficult times, and she said she learned to praise Him as she sought and claimed the promises God has provided in the Bible.
Her husband died last year, but Gorham said she feels comfort through trusting her Lord.