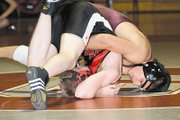 GRANDVIEW - The Greyhounds wrestling team last night (Thursday) hosted East Valley and succumbed 54-15.
East Valley came out fighting, securing two wins by pin before Grandview was able to get on the scoreboard.
In the 145-lb. bout, Eduardo Alcantar of the Greyhounds fought off East Valley's Jimmy Wilson until the Red Devil nailed him to the mat at 2:40.
Second on the mat was Red Devil Kent Gartrell and Grandview's Chris Galvan (152 lbs.). Galvan struggled mightily against the East Valley grappler, but was overcome in 1:02.
Greyhound Juan Guzman was the first to secure a win for his team. He won the decision over East Valley's Jeremy Waldner, 8-3 in the 160-lb. bout.
That win brought the scoring to 12-3 in favor of the Red Devils and encouraged the next two 'Hounds.
East Valley's Nik Hernandez fell 6-5 after a close match with Grandview's Enrique Ochoa in the 171-lb. weight class.
Grandview's Isaac Alaniz (189 lbs.) and Red Devil Kenny Wood created further excitement as the two fought through the next bout. The crowd went wild toward the end of the first period of the bout as Alaniz held Wood on his back. The pin was close, but the buzzer shut down the Greyhound's efforts before he could secure it. The score ended up 8-1 in favor of Alaniz after the opening period.
Going into the second round Alaniz immediately took the advantage and turned Wood on his back to secure the pin with 17 seconds left on the board.
The pin by Alaniz closed the team scoring gap to a 12-12 tie.
The momentum was not enough to stave off East Valley's next eight grapplers. Falling to the Red Devils were Sebastian Ruiz (215 lbs.), Chris Ramirez (285 lbs.), Travis Walker (103 lbs.), Araceli Granados (112 lbs.), Christian Ruiz (119 lbs.), Marco Gonzalez (125 lbs.), Chet Bardwell (130 lbs.) and Efren Ramos (135 lbs.). Six of the Greyhound losses were by pin.
In the 140-lb. bout, the last match of the night, Grandview's Mario Prieto took to the mat for his first dual meet this season. He won a 5-2 decision over Anton Yates.
"Our youth is really showing, but we do see a lot of promise for the future," commented Grandview Coach Jeff Sevigny.
He added, "Every one of our guys fought hard and never quit."
Grandview leaves tonight for Tacoma to compete at the Henry Foss Invite on Saturday.