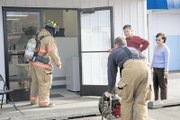 Sunnyside firefighters were dispatched to Sunnyside's Valley Cleaners, located in the 600 block of South Sixth Street, yesterday (Thursday) just after noon for a report of smoke.
The smoke was discovered to be the result of a dryer fire inside the laundromat owned by Jong Cha.
Sunnyside resident Maria Castro and her family were at the business to wash clothing and towels.
She told authorities a patron of the business had earlier warned one of the dryers had been smoking, but she said the patron did not indicate which dryer specifically.
Castro and her family washed the clothing and placed it into a dryer.
She said they were watching the clothing tumble and were alarmed when a fire broke out, igniting the clothing inside the machine.
One of Castro's family members rushed into action and turned off the dryer while another grabbed a fire extinguisher to put out the flames.
Cha arrived from next door and pulled the clothing out of the dryer, causing some heat damage to his shoes and the tile inside the facility.
He removed the clothing from the building before the Sunnyside fire and police departments were called, according to witnesses.
Firefighters arriving on scene assessed the situation and, determining the fire was extinguished, initiated processes for removing smoke from inside the business.
The estimated damage to Castro's clothing and the dryer have not been released.