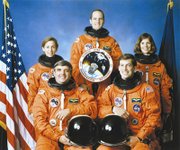 SEATTLE - Retired Astronaut Bonnie J. Dunbar, an Outlook native, will make a presentation on Sunday, Jan. 31, about the 1990 Space Shuttle mission aboard Columbia.
Dunbar, now CEO and president of The Museum of Flight in Seattle, was a specialist on the 1990 mission, which marks its 20th anniversary this year. At the time, the 11-day mission was the longest Space Shuttle flight in history.
Dunbar's speech will be at 2 p.m. at the Seattle museum's William M. Allen Theater and is free with paid admission to the Museum of Flight.
During the Jan. 31 program, Dunbar will share her experiences and perspective on the 1990 mission, which contributed to a better understanding of orbital debris.
That information, in turn, has helped NASA build better satellites and space stations. The medical research conducted on the long mission has since helped shuttle astronauts fly longer flights.
The 1990 mission was organized to help extend the Space Shuttle missions by understanding the effects of weightlessness on the human body. It was the second of five orbital missions that Dunbar flew.
Dunbar's Jan. 31 presentation will include photos and videos taken during the 1990 mission, followed by a question and answer session.
The presentation is part of a weekend of activities at the museum honoring National Astronaut Remembrance Day, Jan. 28.
The Museum of Flight is located at 9404 E. Marginal Way South in Seattle. For more information on the museum and its programs, call 206-764-5720 or visit www.museumofflight.org