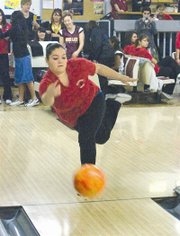 Moses Lake's five varsity bowlers averaged just 143 in yesterday's match-up against the Sunnyside High School Lady Grizzlies, but it was more than enough for the Chiefs to leave town with a dominating three and a half to one-half points victory.
The visiting Chiefs won the opener by 60 pins, 716-656. Moses Lake's individual scores ranged from a high of 177 in the first game to a 118.
Sunnyside, on the other hand, could muster no better than a team-high 142 in the opening contest, that turned in by senior Maleesha Maltos. The other Lady Grizzly scores in game one were a 138 by Nataly Alvarez, a 130 by Amanda Villarreal, a 128 by Ileana Martinez and a 118 by Marissa Martin.
The Lady Grizzlies averted a shutout Thursday afternoon by tying Moses Lake in the second game, 717-717. That earned Sunnyside one-half point out of the possible four points up for grabs in the team scoring.
Sunnyside's game two leader was Villarreal. She rolled a team-best 176, which gave her the only 300-plus two-game series on the day for the Lady Grizzlies. Also coming through for Sunnyside in the second contest were Martinez and Alvarez with efforts of 159 and 145, respectively, with Maltos and Martin rounding out the team scoring with performances of 129 and 108, respectively.
Moses Lake's high individual game in the second contest was a 165, with the low being a 126.
The Chiefs wrapped up the team victory by winning the first of the two Baker games, 193-131. Moses Lake prevailed in the second Baker game as well, scoring a 176-139 win.
In Baker bowling, each member of the five-girl squad alternates taking turns throughout the 10 frames.
Yesterday's loss dropped Sunnyside's overall record on the season to 4-7. The Lady Grizzly keglers close out regular season play next Tuesday at home against the visiting Selah Vikings.
District tourney action is slated for Tuesday, Jan. 26, at the bowling alley of the 4A league champions, yet to be determined.
In JV action at Sunnyside's Valley Lanes yesterday, the Chiefs walked away with a 3-1 victory. The junior varsity Lady Grizzlies' lone win came in the opening game, 646-618. Abi Bravo and Maritsa Rodriguez rolled games of 152 and 144, respectively, to lead Sunnyside to the opening game victory.