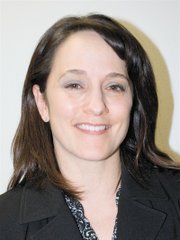 Sunnyside Police Detective Erica Rollinger has always been fascinated with how an investigation plays out and was appointed to her new position last October.
"This is my dream job," she said, stating she has worked for the department since 2005 and has always been interested in the attention to detail detective work involves.
The Sunnyside Police Department currently has three detectives, including Rollinger, Det. Sgt. Jeff Cunningham and Det. Jim Ortiz.
"It is an honor to be in this position," Rollinger said, explaining detectives are appointed by Chief Ed Radder on a rotational basis. The detectives serve in that capacity for no less than two years.
She said the primary job of a detective is to conduct on-going investigations on felony, general and major crimes.
Since becoming a detective, Rollinger has investigated approximately 12 major crime cases and numerous burglaries.
"It's been busy," she commented, stating there isn't anything average about her daily duties. "No one day is the same."
Although Rollinger misses the pace and action of being a patrol officer, she enjoys focusing on individual cases. "We get to see a case through to the end and there is a lot of attention to detail involved."
She said patrol officers assist detectives at a major crime scene, ensuring the scene is safe for officials and securing the scene.
"We would take statements, but left follow-up to the detectives," Rollinger explained of her former duties.
Now, she is one of those detectives who scour every detail of the statements provided and examine evidence for clues.
Rollinger said her mentor, retired Yakima County Coroner Maury Rice, inspired her career in law enforcement.
She met him while she was in college and, "he took me under his wing."
Rollinger said Rice is a patient individual, who shared many of his law enforcement experiences with the curious college student whom he had befriended.
"I didn't know how to get into the profession," she explained, stating Rice guided her through the process of becoming an officer.
Of his assistance throughout her career, Rollinger said Rice has been a sounding board for her.
"After I got into law enforcement, he allowed me to watch an autopsy, which I found fascinating," she shared, stating there is always something new to learn in the field.
Rollinger added to her comments, sharing, "It's important for any officer to desire truth and justice."
She explained the victims of the crimes she has investigated are viewed as individuals for whom someone cared.
"They are someone's child," Rollinger said, stating it is her desire to seek justice for all whom she serves in whatever capacity she works while at the Sunnyside Police Department.