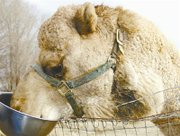 GRANDVIEW - Those who pass by Tear Road in Grandview have probably noticed a tremendous loss from the landscape. Merlin the camel no longer is there. There's no reason to worry: the endearing dromedary is safe and sound at his new home in Cheney.
In 2006, an appeal for a new, loving home for Merlin was made in the local newspaper and by 2007, Merlin's health was the focus of unnecessary controversy.
At the time, the loveable ungulate was the focus of concern because he had an open wound on his neck for a few months and was acting strangely. It turned out Merlin was under veterinary care at the same time he was going into rut, a camel's mating season.
Merlin lived on Tear Road for many years. His previous owner listed him for sale, but there were no takers.
A couple of years ago, Merlin got loose and trespassed in nearby property owned by Sue Allec, who was familiar with the dromedary camel but apathetic. The first time it happened, the previous owner came and got him. The second time it happened, Allec offered the use of her pasture for Merlin to use several months out of the year.
Things were never quite the same after that.
"I'm the first one to say I never thought I'd bond with a camel," laughs Allec. "But I did."
Allec was opening her gate one afternoon when Merlin came to meet her.
"He stuck that big 'ole head over the gate and just about scared me half to death," Allec says. "But then I realized he was just smelling me, so I just stood very still."
The two got used to each other, then got to know each other. After a while, the previous owner gave him to Allec, who has been trying to find a loving home for Merlin for two years.
"From the moment she gave him to me I've been trying to find a place for him that has animals, the same kind of animals as him, and I did," she says.
It took a while, but Allec finally made contact with Bob Baker of Baker's Farm in Cheney. Allec realized Baker's Farm just might be the ideal home for Merlin.
Baker owns three Bactrian females and one male. Then there's Dolly, an 11-year-old female dromedary who's single and looking.
"Merlin just turned 15 on January 4," explains Allec. "In camel years he's quite young. He'll probably outlive me.
"It seemed cruel to not give him the opportunity to become a daddy. I just wanted him to be happy, to have a good home."
Allec and Merlin will maintain their special friendship-he lives near her parents. "If I don't go see him this month, I'm going next month," she promises, adding it was important to her that Merlin live close enough to visit.
Merlin recently departed Grandview for Cheney, where he is currently separated from the other animals.
Baker's well established in the camel industry and used to even raise zebras. He said Merlin will have at least five acres to roam and will be fed grass, hay and grain, as well as the occasional treat.
Soon, Baker says, he'll meet Dolly.
In the meantime, Allec anxiously ponders Merlin's dating game debut.
"I hope they like one another. What if I sent him over there and she doesn't like him?," Allec says. "What if she says, 'I don't think you're handsome enough?"
Apart from her worries, Allec is hopeful Merlin will settle down with Dolly and, well....as she puts it, make her a "grand-camel."