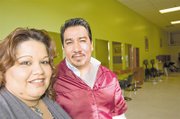 Javier Ruiz knows how isolating it can feel to be limited and sidelined by life's circumstances, with nothing but a dream to hold on to. His dream is about to come true as he and wife Julie are readying to open Sheer Designs Instruction of Cosmetology.
Ruiz worked for a dairy when he sustained a life-changing injury to his leg. After always contributing and never collecting unemployment benefits, Ruiz found he and his family in need, skeptics abounding about the true nature of his injuries.
"I didn't have a job, I didn't have anything," he said.
Julie Ruiz recalls once being a skeptic, too. "When you have a steady income, you never think about it, you just think people are lazy," said Julie Ruiz. "Then you see how quickly those funds deplete...your savings starts to run like water and you're close to getting in that pit. Then you're in the same situation and you realize you don't know what circumstances people are going through."
After being put on bed rest, Javier Ruiz recalls his co-workers asking how he was enjoying his vacation. It hurt. "I don't ever want a 'vacation' like that again," he said. Adding insult to injury, L&I was slow to fulfill its promise to pay for his retraining, he said.
"I worked for 14 years in a dairy. I never got an unemployment check...when I got hurt, L&I paid nothing (for training). They make you feel like you just want money. That's hard. I know there are people like that, but I'm not one of them," he said.
Ruiz checked all available resources and found the dislocated vocational rehabilitation program through Worksource. When he made the top of the list, he ended his L&I claim and ventured into the world of cosmetology, joining his wife in the trade.
Mr. and Mrs. Ruiz had a shared dream to open a beauty school. Sometimes, they both agree, it's what kept them going.
"You gotta push every day," said Julie. "Get up every day, keep getting up and pushing yourself."
Julie Ruiz received her cosmetology license after going to beauty school in Wapato. Javier, through the DVR program, attended beauty school later. The two talked frequently about their own school.
The couple first opened J&J Hair Addictions, a beauty salon on Yakima Valley Highway in Sunnyside. Then they set their sights on a location in the former Kmart building for the school.
Mr. and Mrs. Ruiz say their school will stand apart from the other two beauty schools in Sunnyside.
Julie Ruiz said that no high school diploma or GED will be required to attend the school. "There are a lot of people who want to take the training but don't have (the equivalent of) a high school education," said Mrs. Ruiz. "I can help them."
There will be classes in both English and Spanish and the school will be open longer hours, from Monday through Saturday.
"We're going to be open from 9 a.m. to 8 p.m., so it gives people the opportunity to have a part-time job and still get an education," said Mrs. Ruiz. And instead of requiring 1,600 hours of education, the couple plans to require only 1,400.
They said they are ready to file the paperwork to get their "school code." To get accredited, Mrs. Ruiz said it takes about six months to process the paperwork, then after a two-year period the school will be accredited.
The couple says opening the school is a way of giving back to the community. Javier Ruiz says he remembers what it was like to have nothing and realizes for some, this economy is likely taking its toll, especially on the community elders. Once the school is open, he said he's going to allow seniors to get their hair cut for free by a student.
He also has a significant local population in mind when it comes to the college: field workers seeking a better life.
"What I want to target is people who are really interested in learning," he said. "And some people say they're too old. You're never too old, it only takes about a year."
Already, the couple says they have 40 students on the list to attend Sheer Designs Instruction of Cosmetology when it opens. Mrs. Ruiz will serve as teacher and Mr. Ruiz plans to receive training as an instructor.
Then, says Javier Ruiz, "I've got good plans for later....maybe expanding the business. That's the next thing I see. It might take one year, or two years or three years. I don't know how long it's going to take me. But I've got plans for that."