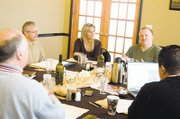 a little more than six months, the Sunnyside School District's new transportation building will be housing the district's fleet of 45 buses just in time for the 2010-11 school year.
That's according to a building construction update provided this past Saturday during a Sunnyside School Board retreat.
Angela Watts is the school district's executive director of finance and operations, and she presented updates on the transportation building, as well as plans in the immediate future for Sunnyside High School and Sun Valley Elementary School.
Work is well underway on the transportation building, located near the Port of Sunnyside's Golob Landing business park, and should be wrapping up in August.
Watts said the school district received $3.9 million in state funds for the building. The assistance was made possible because the Sunnyside School District is in a transportation cooperative with the Mabton and Bickleton school districts. Under a contractual relationship with the two districts, Sunnyside provides bus maintenance services.
The total price tag for the transportation building is just shy of $4.5 million, with the district picking up the tab for $604,000 of that.
When completed, the transportation building will provide a training room, expanded wash bays and dressing rooms. Watts said the wash bays were requested by drivers, who are required to wash and inspect their own buses each day.
Watts said there is also room available for expansion as needed in the future.
Once the buses occupy their new home on Barnard Road, the current transportation building will be used to house Sunnyside High School's vocational education programs.
The board also reviewed plans to modernize and expand Sunnyside High School.
Work on the $44.4 million project should start this August or September, and wrap up by the end of 2012.
Plans call for expanding the high school by 41,393 square feet and modernizing nearly 170,000 square feet already in use at the high school.
The construction project will re-shape the high school, moving the front entrance closer to the auditorium and administrative offices. The offices will have windows looking outside so that administrators can better monitor activity.
Speaking of the auditorium, the project will include new seating and lighting for the facility, as well as an accompanying room to use for staging or as a smaller venue for performance arts.
Other notable features include a section of the high school that will be expanded to two full stories of classrooms, as well as a vastly upgraded commons area.
The current commons area is too small for the high school's enrollment, so Watts said the new commons will be expanded to seat more than 1,000 students.
The increased space will make it possible for other uses of the commons, she added. To that end, a movie screen will be featured in the commons for movie events.
Other parts of the project will construct open areas in such a way that they can be closed off and used for community meetings when school is not in session.
That's not to say there won't be a few inconveniences for high school operations while construction is underway.
Watts noted the high school will be without a kitchen for about a year during construction. As a result, meals will be brought in from elsewhere in the school district, likely Harrison Middle School.
A benefit to going without a kitchen temporarily, Watts added, is that it will speed up construction by four months. In addition, the kitchen staff will have a say in how their new kitchen is designed.
The school district is receiving $39.3 million in state funds for the high school upgrade. The remaining $5 million or so for the project will come from a bond voters approved to upgrade both the high school and Sun Valley Elementary School.
Regarding Sun Valley, the board received some good news during Saturday's meeting, as Watts noted the bonds performed well and provided additional funds to expand Sun Valley further than initially planned.
Besides initial plans to construct a new multi-purpose/commons room and kitchen for Sun Valley, the district now has additional funds to build a new wing for the school to house eight more classrooms.
All told, it means Sun Valley will see 17,000 square feet in new construction.
The additional room means the school will house all of the district's kindergarten and handicapped pre-school classes, including those at Outlook Elementary School.
Sun Valley is on something of a fast track, as bids will be opened this week and hopes are for construction to wrap up early enough for students and staff to use the new space by the start of the 2010-11 school year.
Superintendent Dr. Rick Cole said buffers will be in place so that construction noise doesn't interrupt classrooms. In addition, the buffer will prevent students from having access to the construction area.
Major construction on the front of the building will be held off until summer, when school is out of session, he added.
The Sun Valley project has a total construction budget of $3.8 million, with all of that coming from district funds.
Though together the three projects cost a total of $52.8 million, they combined are expected to draw only $9.5 million from the district's capital projects fund.
Watts said that will leave about $1.6 million in capital contingency funds, a healthy amount, she added.
Among projects that money could be used for are replacing all the sinks at Washington Elementary School, an undertaking expected to cost about $40,000.
Watts said that would be part of an eventual modernization of Washington that's next on the construction agenda.
Before that happens, though, the school district needs to increase student enrollment to receive additional state funds for new construction.
Cole said the district needs about 400 more students before the state kicks in enough funds for the Washington upgrade.