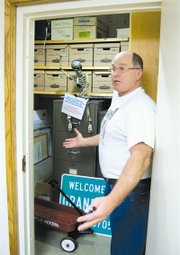 GRANDVIEW - With discussions underway in Congress about a possible second round of stimulus money, the Grandview City Council took steps last night to seek those funds.
Grandview benefitted from the first round of stimulus money, receiving funds for downtown improvements.
Tuesday night, council gave the go-ahead for some initial planning to improve Euclid Road from the south city limits to Groom Lane.
The idea is to get the process started to facilitate a grant proposal for Euclid should more stimulus money become available.
"The more ready you are to move forward the better," City Administrator Scott Staples told council.
There are seven planning phases needed to prepare for work on Euclid. Last night council approved two of them - ensuring environmental compliance and preparing descriptions of rights-of-way that would have to be acquired.
The total cost for the two planning phases is $25,000 and Staples said there are plenty of funds available in the city's water/sewer funds to pay for it.
The Yakima-based engineering firm of Huibregtse, Louman Associates will do the planning for the two phases. Preliminary plans should be available within two months.
The Euclid Road project is a high priority both for the city's six-year street plan, as well as a regional group called Driving Rural Yakima Valley's Economy (DRYVE).
Grandview envisions widening Euclid and providing curb, gutter and sidewalk improvements. In addition, the project would provide lighting, storm drainage and replacing as well as extending the existing water main.
Councilman Jesse Palacios is a former chairman of DRYVE and last night he applauded the forward thinking in preparing for a possible second round of stimulus money.
"If this is coming you better be in the batter's box," he said.