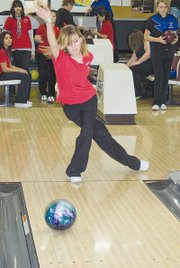 It took three attempts, but finally the Sunnyside High School girls bowling team got the best of the Selah Vikings.
Yesterday at Sunnyside's Valley Lanes, the Lady Grizzly keglers knocked off the visiting Vikes, 3-1. The victory avenged two previous losses to Selah this season.
Tuesday's win also closed out regular season play for the Sunnyside team, which finished at 5-7 overall. The Lady Grizzlies are scheduled to compete at the District tournament next Tuesday, Jan. 26.
In besting Selah yesterday, the Lady Grizzlies were powered by senior Maleesha Maltos. She rolled a pair of 153 games for the top individual effort on the day, a two-game 306 series.
Selah won the opening contest, 709-633, thanks mainly to the performance of Stephanie Selfridge, who tossed a 177.
After that, however, it was all Sunnyside.
Game two went the Lady Grizzlies' way by a score of 733-577. Sophomore Amanda Villarreal sparked the rout, bowling a 162. Sunnyside also got the 153 from Maltos, a 147 from Marissa Martin, a 139 from Nataly Alvarez and a 132 from Ileana Martinez.
The Lady Grizzlies forged a 2-1 lead in Tuesday's match by winning the first Baker game, 116-100. Baker bowling calls for each member of the five-girl squads to alternate taking turns throughout the 10 frames.
Sunnyside wrapped up the 3-1 victory by winning the second Baker contest, 129-124.