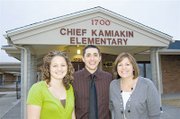 When you're born and raised in a small town, it's no small wonder when you bump into relatives all about town. It's quite another thing when you've got three relatives in the same profession, teaching in the same school.
Such is the case with the Cullens, Kathy, Ryan and Hilary. Young Ryan and Hilary, expecting to welcome a daughter come spring, are first-year teachers at Chief Kamiakin Elementary School where Ryan's mother, Kathy, has taught for years.
Simply put, for the Cullens, teaching is all in the family.
"All three of them are strong, strong teachers," said Chief Kamiakin Principal Julie Schmick.
Schmick said hiring at the school is done by a team. Schmick goes to Human Resources and pulls "the best of the best" applicants, and the team then interviews them.
Schmick was familiar with the young couple because of their substitute teaching and volunteerism.
"When they came in to interview, they both had projects they shared, great stories about the kids (they had while) student teaching, what they did as teachers that set them apart," shares Schmick. "You have to have a sense of humor and they had humor and carried themselves well."
Ryan almost took a different career path. Growing up, he wanted to be a star football player. By the time he entered college he was mulling a physical therapy career. But through his community activism, Ryan realized just how much he enjoyed kids. "I always wanted to work with kids and the joy they bring." Hilary, who teaches first grade, added it's an honor to have a lot of influence on a young person's life in such a short period of time. Perhaps she learned that pearl of wisdom by having Kathy Cullen, her future mother-in-law, as a teacher in second and sixth grades.
Today, the young Cullens can approach Mrs. Cullen for advice on how best to tackle challenges, and because the Cullens surprisingly rarely see each other at school, conversations often take place at family gatherings.
"I'm always asking for advice," says Ryan. "We can talk about what's going on and situations we need help with.
He joked, "My dad gets tired of it!"
Of the three Cullen teachers, it's the elder Cullen that's learned through trial by fire.
She said she's seen tremendous changes in education since she began teaching nearly 25 years ago. She said early in her career, the teachers determined the timeline for curriculum. Today, she added, an established amount of time must be spent on math, reading, etc., in order to meet state standards. "It's more focus, more structured," she said. But, she added, "There really isn't time for anything else."
Kathy said the Sunnyside School Board is also more "hands-on" than 24 years ago. "Our school board is probably more involved in what is happening...everybody has to know where we're supposed to be. I think they're really hands-on about what's going on and what needs to be done." Hilary added, "Data, data, data. It's very data driven." That, too, is a change for Mrs. Cullen.
Should Ryan and Hilary's daughter become a teacher, the three agree the face of education will probably change dramatically by then-most of which will have to do with technology.
"I think (students) will probably have a computer at their desk, books won't be made of paper, they'll be on a computer," said Mrs. Cullen.
Hilary agreed, then added, "In education, the pendulum swings one way, then comes back the other way. I think it will be the complete opposite of what I was taught."
Ryan added, "We teach the standards now, and I don't think that's going to change. I don't doubt the standards will change."
Schmick said she thinks the state will prioritize technology, engineering, math and science. "That little tyke is going to have to be strong in those areas and be able to push buttons and create programs."
Should baby Cullen grow up to be a teacher, maybe she'll follow in the footsteps of her parents, teach in the same school and seek advice from her fellow teachers and family members, just as the young couple has.
Ryan and Hilary agree that seeing a child's mind click into gear and begin actually knowing the material is an indescribable reward of the job. Because of their relationship with Mrs. Cullen, they know bigger rewards await.
Hilary said, "The things I hear (from her) are about those students she didn't think she could work with or make it to the end of the year with. Then they come back and thank her later for never giving up on them. You're the one they think is great."
She added, "You have a lot of influence on a young life in a short period of time."