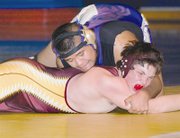 MABTON - The Mabton Vikings finally caught a break.
The Viking grapplers won all six of the contested matches last night when they faced SCAC West foe Cle Elum. Mabton also got the benefit of receiving four forfeits from the Warriors, which allowed the Vikings to win easily, 56-6. The only points the Vikings did give up was a forfeit to Cle Elum in the 125-lb. weight class.
Mabton wrestlers Mario Cardenas (171 lbs.), Samuel Sexton (130 lbs.), Chris Roman (135 lbs.) and Carlos Gastelum (152 lbs.) all received forfeits last night.
Mabton started the night with a pin in the 160-lb. bout. Mabton's Frank Martinez recorded the fall against Mitchell Millsap in 4:28.
In the 189-lb. match, Mabton's Jesus Cardenas pinned Ryan Roust in 5:07. Mabton Coach John Kilian said this match was unusual. Cardenas was behind 8-0 after one period and was behind 10-3 heading into the third.
"He just gassed out," Kilian said of Wenatchee's Foust. "It was crazy."
Mabton kept piling up the pins when Eric Huesca (215 lbs.) got a fall against Stuart Stewart in 5:20.
Mabton's Vicente Mireles (112 lbs.) scored the only decision last night. He beat Riley Iacolucci 10-3.
In the last two matches Danny Magallon (119 lbs.) pinned Cle Elum's Daniel Boehme in 1:41 and Alonso Garcia pinned Cle Elum's Connor Briggs (145 lbs.) in 5:15.
The Vikings forfeited the 125-lb. match and no matches were wrestled in the 285-lb., 103-lb. and 140-lb. weight classes.
Kilian said both he and the Cle Elum coach spoke before the meet about the inexperience of the two teams.
"After it was over I was glad to have my inexperienced team," Kilian said. "It was a good night to be home."
The win evens Mabton's league record at 2-2 and 3-5 overall. The Vikings will travel to Goldendale for a meet on Thursday, Jan. 21. Wrestling starts at 7 p.m.