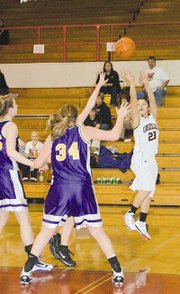 The Wenatchee Panthers got off to an early lead against the Sunnyside Lady Grizzlies' basketball team last night and never looked back in a 56-28 CBBN Columbia Division game.
"Our girls played pretty good for the most part," Sunnyside Coach Eric Berg said. "Wenatchee is really big and physical. It was tough to compete with that."
Wenatchee is led by Michaela George, who does the inside work for the Panthers. She is complemented by the Hallberg sisters, Dani and Lexxi, who take care of the outside. All three players are over six feet in height.
George scored eight points in the first quarter and the Hallberg sisters combined for six points as Wenatchee built a 20-8 lead.
In the second period the Grizzlies switched to a zone defense, which seemed to throw the Panthers off track. Sunnyside was able to hold Wenatchee to just nine points in the period. Sunnyside scored seven points.
"It came down to rebounds," Berg said. "Wenatchee didn't shoot that well in the game but they had many second and third chance opportunities."
The Panthers outscored Sunnyside 27-13 in the second half.
The Grizzlies were led by Zenaida Perales with eight points. Ruby Herrera added five points for Sunnyside and Toni Castillo had four points. Teammates Sarasa Partida and Sammie Reyes each finished with three points. Sam Wright and Michelle Galvan added two points each, and Jill Spini finished with one point.
The Panthers were led by George with 19 points. Dani Hallberg finished with 15 points and her sister, Lexxi, added 10 points for Wenatchee. Ann Scheumann contributed six points to the Panther cause, Griffin Paine had four points and Kara Rockstad had two points.
Sunnyside is now 1-5 in league play and 1-10 overall. The Grizzlies will travel to Yakima on Friday, Jan. 22, to play the Davis Pirates, the only Sunnyside win so far this season, at 7:30 p.m. On Saturday, Jan. 23, Sunnyside will host Moses Lake for a 7:30 p.m. game.