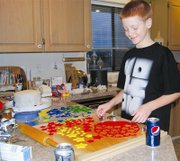 "Celebrating More Birthdays" is this year's theme for the annual Lower Valley Relay for Life. Tying in with the theme, 12-year-old Brandon Bliesner of Sunnyside recently designed a cake for team meeting participants.
"The team meetings," said Bliesner's mother Kari, "are to be like parties."
She said her son felt a party is not complete without a cake, and thus wanted to try out his own culinary skills for the meeting held last week.
"Brandon watched the reality show 'Cake Boss'," shared Kari, stating the show inspired the younger Bliesner's cake dreams.
He designed a checkerboard cake and decorated it with stars and balloons. He also surrounded the confection with cupcakes to finish the masterpiece.
"It was my first cake ever," the young Bliesner shared, stating he wanted to use fondant after seeing its effects on a cake on "Cake Boss."
The youngster had some help from his mother, but the overall design was his.
"He was the boss and I was his bakery assistant," his mother shared.
As a fallback option, she said the duo agreed to purchase a cake from the store if the 12-year-old's cake did not work out.
But it did, and it was a hit, according to his mother.
"At first I thought it would be hard, but found it wasn't so difficult," said the younger Bliesner.
He said he had fun picking out decorations for the cake. He used cookie cutters and had his mother purchase cake pans for the project.
"Brandon was a little nervous and so was I," she shared, adding the experience was positive and the youngster volunteered to give a repeat performance for the February Lower Valley Relay for Life team meeting.
"It was a lot of fun and I might use some ideas from some cake decorating books we bought for the next cake," said the 12-year-old.
He and his mother have been involved in Lower Valley Relay for Life for the past five years and serve as co-captains for "Kari's Krusaders."
"We are big supporters of Relay for Life and believe it is a very important event," said Mrs. Bliesner, adding, "We participate because we can."
The next team meeting, she said, will take place at the Sunnyside School District Office in room 20 on Thursday, Feb. 11, at 5:30 p.m.
This year's Lower Valley Relay for Life will take place Saturday and Sunday, May 15-16, beginning at 9 a.m. Saturday at Grandview's Rich Leenhouts Stadium.
Those wishing to get involved can do so by forming a team or joining an existing team. More information is available online at relayforlife.org/grandviewwa or on the Lower Valley Relay for Life Facebook page.