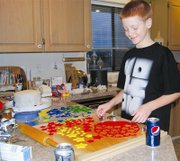 Sunnyside native Curtis Campbell was just 15 years old when he was first impacted by cancer, watching his beloved grandfather slowly die from lung cancer.
Today Campbell is the chair for the Relay for Life American Cancer Society fundraiser in the Lower Valley and is gearing up for the annual event set for May 15.
Even now, 15 years later, the passing of his grandfather has left an indelible mark on Campbell, a community relations coordinator for the Sunnyside School District.
"It had progressed past the point of treatment, and we were told it was only a matter of months before he would pass away," Campbell recalled. "I was absolutely devastated; here was a man who had seemed invincible to me, and I was being told he would be gone by the fall."
Since he was the oldest grandchild and had grown up working on his grandparents' cattle ranch, Campbell was asked to live with them and help operate the herd until it could be sold at auction.
"It was a surreal, heartbreaking experience to watch someone you love so much slowly die right before your eyes," Campbell said. "You just feel helpless."
That sense of helplessness prompted Campbell to get involved with Relay for Life a few years later.
"I carried that helpless feeling with me for about three years, until one of my teachers asked if anyone was interested in helping volunteer to do a set-up and tear-down of the (Relay for Life) event," he recalled. "When I showed up that Saturday morning, I was amazed at how many people from our community came together for a single cause. At that moment, I stopped feeling alone, I stopped feeling helpless."
Campbell added, "Here were all these people who had their lives touched in some way by cancer, and here they were fighting back, raising money to find a cure to a modern day plague."
In his senior year of high school, Cambell says he walked with a friend's team during the Relay for Life.
"I became acutely aware that this wasn't just about my experience with my grandfather, it was about the bigger picture," he said. "The fact of the matter is that cancer can strike any one of us at any time. I no longer relay just to honor and remember my grandfather, I also relay for my family and friends who don't have cancer, so that if that dreaded day ever comes where one of them are told they have cancer, they have hope."
Campbell resumed his participation in the Relay for Life when he moved back to the Sunnyside area last year. Since returning to the Lower Valley, Campbell has organized a charity basketball game between Sunnyside and Grandview school district staff to raise money for Relay for Life.
Through the basketball fundraiser, Campbell met Michele Lawrence from the Tri-City office of the American Cancer Society. This past September, Lawrence asked Campbell to consider chairing Lower Valley Relay for Life.
"Knowing that it was a big responsibility and time commitment, I did the smart thing and talked it over with my wife before agreeing," he said.
Campbell credited new and returning relay committee members for their help in organizing the 2010 Lower Valley Relay for Life in Grandview.
"I can't overstate how lucky I am to be surrounded by a group of people who are committed and give so selflessly," he said of relay volunteers.
The 2010 theme for the Relay for Life is "Celebrating More Birthdays."
Campbell says it's an appropriate theme "when you consider how many more birthdays have been celebrated because of all of the money that relays have raised in support of the American Cancer Society."
Plans are well underway for the 2010 Lower Valley relay. Campbell said the goal this year is to raise about $80,000, similar to the amount raised in 2009.
"Personally, I think we can raise more," Campbell said. While noting the down economy, Campbell said it's important to maintain the fundraising momentum.
"Cancer does not go away in a tough economy," he says. "In fact, in the midst of a tough economy is when the ACS needs our donations even more, to provide resources to those battling cancer who may be out of work or not have health insurance."
Campbell added that although the Lower Valley "may not be the most affluent community, I was born and raised here and I know for a fact that we are one of the most generous."
He says all donations will aid the cause, "If someone can only give $5 it's something and it will help."
One of the advances in the 2010 Relay for Life is that the Lower Valley group is expanding the use of technology.
Campbell said there is now a website at www.relayforlife.org/grandviewwa where people can register teams, donate and do fundraising online.
"We also have a Facebook fan page where users of that social networking site can find ways to support the Lower Valley Relay for Life," he added.
To find the fan page type Lower Valley Relay for Life in the Facebook search bar.
Information about getting involved in the Lower Valley relay is also available by calling Campbell at 840-5750.
Though the Relay for Life is still nearly four months away, Campbell said now is the time to prepare.
"We are really trying to get teams to sign up now and start their fundraising," he said. "By starting early, teams are much more likely to raise more money. We already have one team that is almost up to $2,000."