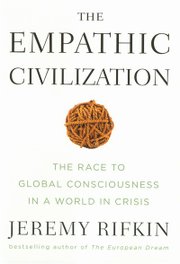 Mankind is by nature not compelled to build, to grow to acquire. Rather our primal urge is to have empathy, to feel for and with one another emotionally in joy, pain and sadness.
That's according to Jeremy Rifkin in his new book, The Empathic Civilization.
Rifkin claims recent findings in the biological and cognitive sciences back up his thesis. He cites the work of William Fairbairn and other psychologists who maintain that from infancy our fundamental drive, our very nature, is to love and be loved as a person.
Conversely, Rifkin maintains that aggression and violence arise when the basic need of empathy and relationship is taken away.
In the process of laying out his thesis, Rifkin seemingly takes aim at religion and God. He says the Biblical view that man is a fallen creature because of sin and in need of salvation has contributed to a baser view of mankind's instinct.
As a result, he deals Christianity a double-whammy in both denying the existence of God the creator and blaming the belief in God and a fallen world for minimizing empathy as our primary reason for being.
Ironically, Rifkin could have saved himself quite a few pages of the written word - and a few trees in the process - if he would have recognized the creation account in the Bible and the fact God made us to live in relationship with Him and others.
In other words, the empathy Rifkin sees in all of us is really - as C.S. Lewis described it - "a God-shaped hole" in our hearts seeking His love and acceptance.
However, Rifkin maintains that humans have evolved into empathic beings and that somehow we just happen to be wired this way.
Looking at contemporary society, Rifkin says that technological developments, such as social networking and the free distribution of Linux software, have only heightened our sensitivity towards one another in making it easier to have contact.
Rifkin also states that different cultures have different ways of showing empathy.
In Asian cultures, for example, he says the focus is preparing a child to live in harmony with the larger society.
In American culture, by contrast, Rifkin points out children are encouraged to seek out individualism and there is a tendency towards building up the child's self-esteem.
Even with the cultural differences in showing empathy, Rifkin contends, the world is in the midst of a third industrial revolution that features both a wider distribution of wealth and greater awareness of the environment.
While flush with approval for just such a revolution, Rifkin's central view of civilization's newly-found empathy comes with a Chicken Little sky-is-falling warning.
That is - according to Rifkin - even as civilization awakens to its empathic nature, he is concerned global warming and climate change could threaten our very existence.
He wonders if this empathic civilization can rally in time to avoid a collapse of both human kind and the Earth.
The Empathic Civilization is well-researched, though a caveat to the reader is that several of the references are to previous books Rifkin has penned.
While I emphatically disagree with some of the views in The Empathic Civilization, this may not be a bad book to check out at the library, especially considering the $35 price tag for the 600-page tome.
So why recommend paging through a book I disagree with?
The reason is that Rifkin is an advisor to the European Union and several heads of state. That's a pretty scary proposition, unless you lean pretty heavy to the left.
Want to know what he's advising these world leaders, especially about global warming? Then check out - from the library - Rifkin's The Empathic Civilization.
1 John Fannin 1/22/2010 3:52 PM