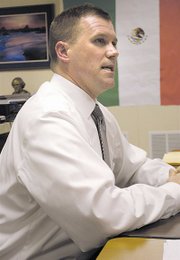 MABTON - Five candidates for the Mabton School District superintendent's position participated in five different forums last night (Thursday), including one with a group of interested community members.
The forums also included a group of certified staff members, administrators and directors, classified staff members and representatives of the ASB and Achievement Via Individual Determination programs at Mabton High School.
Sitting down to share their individual educational backgrounds were Sunnyside School District Assistant Superintendent Gary Vegar, Dr. Daniel Garcia, district director for three charter schools in Texas, Lewis and Clark Elementary School Principal Marty Brewer, Toppenish Curriculum Assessment and Instructional Director Patty Schmella and Grandview School District Assistant Superintendent Minerva Morales.
Three of the candidates are natives to the Lower Valley, with Schmella having begun her career in education in Toppenish nearly 17 years ago. Garcia is hoping to relocate to Mabton after having developed friendships with individuals involved in Lower Valley school districts.
Of concern to the community members gathered for the forum was the individual interests in longevity with the school district. All but Brewer was asked about their long-term goals regarding the superintendent's position.
Each of the four candidates asked how long they would remain expressed an interest in holding the position on a long-term basis. The most definitive answer was provided by Schmella, who told those attending the forum she sees the position as her final stop. "My husband and I have discussed this and we would move to Mabton. I believe in being a part of the community, and I would probably be here six or seven years," she stated, noting she began her career in education late in life and feels she would retire after having served as superintendent here.
Brewer is the youngest of the five candidates at the age of 44. He grew up and graduated high school in Grandview. His career spans five school districts, including Sunnyside, Grandview, Prosser, Richland and Lewis and Clark schools.
He obtained his administrative credentials while working in the Sunnyside School District and has held his current position at Lewis and Clark Elementary for eight years.
Brewer implemented the dual language program when he was a principal at Grandview's A.H. Smith Elementary School, and those students are now in the eighth grade.
Vegar has served the Sunnyside School District in his current capacity for more than five years. "I am currently in my sixth year there," he shared, stating he works with directors in the bilingual program, school safety and migrant programs. He was the high school principal in Stanwood for nine years and saw the student population nearly triple during his tenure.
By comparison, he said, "It had grown to 1,800 at the high school and Sunnyside (School District) is pressing 6,000 students."
Vegar and Schmella were both asked about their feelings regarding arts and activities for students due to the recent loss of the music program at Mabton High School.
Both expressed an interest in providing students with opportunities to explore vocational, arts and music classes.
"I firmly believe the arts are important to education," said Schmella.
Vegar worked with students in the vocational arts while teaching in Hawaii. What he learned, he said, is that vocational arts can help a student struggling in mathematics grasp a concept by connecting and engaging in putting it to use. Therefore, he is an advocate of the arts and the benefits provided to students through the arts.
Garcia's extensive background includes serving as a college professor and implementing bilingual programs in schools he served after leaving the world of higher academics.
His return to serving students in primary and secondary schools took place when he was challenged to put his theories about bilingual education into practice.
"I am data-driven as a result of the bilingual program implementation," said Garcia, explaining he learned to use data provided in the program to identify areas of need and areas of strength.
That experience, too, provided him insight into the two areas of language. They are cognitive learning and proficiency in communication.
"It is important to break learning concepts and curriculum down for visual and oral instruction," Garcia explained, stating students cannot only be taught orally, but need to understand a curriculum.
When there is a language barrier, he said a student will not grasp concepts through oral instruction without the visual cues.
Discipline in the schools was another issue addressed in the community forum. Candidates for the superintendent position were asked about their approach to discipline to address concerns in the schools.
Brewer said he had been asked about the issue by students, as well. He said he believes in safety within the schools. To address disciplinary issues, he would first assess the needs of the students and staff and work through a collaborative process to come up with solutions that best serve those needs.
"Everyone needs to be on the same page because that can be very powerful," he shared.
Former Mabton educator Greg Hurn asked Morales about the discipline of principals who are not running a school as efficiently as she may believe they can.
She said there is a need to understand what steps have been taken to address issues regarding effective learning environments.
"I have a strong belief in collaboration and a need to discuss with administrators what the expectations are and what goals are set to meet those expectations," said Morales.
She said there are several stakeholders involved in the schools, including the students and staff members. It is the job of the superintendent, she said, to take into account the needs of those who have a stake in how discipline is carried out in the different school buildings.
When asked why she feels the need to work for the Mabton School District, Morales told the community members she feels there is a need in the district that isn't much different from that of the Grandview School District.
"I see a need for stability and I can provide that," she explained, stating she doesn't want Mabton to be a place where someone is looking to advance their career for the purpose of moving on to a larger district.
"You wouldn't lose me unless I was forced out because I am planted here," Morales continued, later explaining there also would not be a conflict of interest regarding her husband's position within the district if she were selected as superintendent.
Addressing the concerns of visibility within the community, she added that she would be highly visible.
"You will see my car at the office after hours because there is a lot of paperwork involved in an administrative role and I don't believe it is effective to sit behind a desk during the day...I need to be out in the buildings, building relationships during the day," she stated.