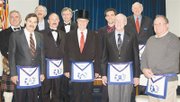 GRANDVIEW - Grandview Lodge 191 of the Free and Accepted Masons fraternity installed its 2010 officers Thursday night.
In attendance at the installation were four generations of Prosser's Booth family, something the second generation was hoping for early in the evening.
When asked about his history with the Masons, John C. Booth explained it was familial. "(It's a) long, long history and tonight there are three generations of my family doing Mason work, and you might just see four."
Booth explained the Masons as a "do-gooder" type of organization. "We're not like Rotary, we're a fraternity."
The Grandview lodge has ebbed and flowed over the years and a few years ago, appeared to be going down as with many other longstanding service organizations. But that didn't happen.
"Things recover," said Booth. "Things always work on a cycle."
Booth looked around and added, "See the guys in their 20s? They're the ones that are going to save it, not the old guys like us."
Newly installed Grand Master Bill Guyer said the group meets on the first and third Thursday of every month and on the third Thursday of the month, a potluck is held and the men are strongly encouraged to bring their families.
Guyer said the meetings begin by discussing new business, old business, anything for the good of the order and then the group is questioned as to whether any members are sick or in distress. "What Free Masons do for each other depends on the need," Guyer explained. "Whatever need arises is what's done."
Derek Booth, John C. Booth's son, said the lodge is about fellowship. Or, as he put it, "Brotherly love, loyalty. It's more of a family, really. Everybody that's in this is part of that family. We're here to help people if they need help."
Booth, who brought his son Ty, almost 2, said he recalls his younger years in the lodge.
"They had this big rainbow star and it would have suckers on it. After dinner, we'd be able to grab one."
At last night's meeting, Guyer was installed as Worshipful Master, John C. Booth as Junior Steward, Jack Phillips as Senior Steward, Dave Wickline as Junior Deacon, Stephen Norling as Senior Deacon, Tom Ardamica as Junior Warden, Chris Booth as Senior Warden, John Norling as Tyler, George Booth as Chaplain, and John L. Booth as Secretary.