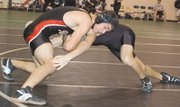 The 3A Sunnyside Grizzly wrestling team knew it had the upper hand from the get-go, receiving three forfeits on the way to a 55-15 victory last night over 4A Kennewick.
"I didn't expect them to forfeit three weight classes this late in the season," Sunnyside Coach George Paulus said of Thursday night's home match. "We were just trying to focus on what we do as individuals, play our game and for the most part we did that."
After Sunnyside's Caleb Gomez (152 lbs.) received a forfeit win, teammate Ryan Hernandez (160 lbs.) had a more difficult time in losing 8-4 to Rowdy Thompson of Kennewick.
The Grizzlies got back on track in the 171-lb. weight class, as Lupe Mendoza pinned John Penny in 3:18.
After the Lions' Geraldo Rodriguez (189 lbs.) responded with a 6-4 win over Alex Isiordia, Sunnyside reeled off eight wins in a row to clinch the match.
The Grizzlies' run started when Danny Almeida (215 lbs.) received a forfeit victory and teammate Jose Barajas (285 lbs.) quickly pinned Kennewick's Evers Arroyo in 1:16.
Nathan Gonzalez (103 lbs.) of Sunnyside then scored a 19-3 technical fall victory over Michael Hosfield.
After Gerardo Villalobos (112 lbs.) received a forfeit for the Grizzlies, teammate Daniel Guillen (119 lbs.) pinned Kennewick's David Cancino in 1:38.
Sunnyside's David Vidales (125 lbs.) kept the momentum going for the Grizzlies by pinning Seth Ackley in 1:10.
Emmanuel Tejeda (130 lbs.) avenged an earlier loss this season to Kennewick's Steven Moreno by defeating the Lion 9-3.
Sunnyside's run of eight consecutive victories concluded with Isidro Ramirez (135 lbs.), who scored a 20-5 technical fall over Brock Schuch.
The match concluded with Kennewick winning the final two bouts. The Lions' Ryan Ines (140 lbs.) decisioned Sunnyside's Miguel Madrigal 8-5, and Nate Woods of Kennewick pinned Andy Cantu in 1:03.
Sunnyside (4-1, 8-1) returns to home action tomorrow, Saturday, when it takes on 2A schools Prosser and East Valley. West Valley, a 3A rival, will also be in town and like the Grizzlies will take on the two 2A schools.
With a pair of non-league matches coming this weekend, Paulus said the focus will be on gearing up for the postseason.
"Our goal is to fine tune our game and be successful," he said. "We're always trying to work on what we're doing in practice, and this is just a continuation of that."