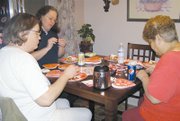 Grandparents serving as parents to their child's children are the focus of a recently formed support group in Sunnyside called Kinship Caregivers.
That's according to Deanna Potter, the leader of the support group and primary caregiver to granddaughter Lily.
Potter said as a relative taking care of another relative's child, it's common to feel isolated and alone, overwhelmed by transition and the system.
"It's a rollercoaster of emotions," she said. "Especially anger, sadness and embarrassment."
Some people care for children of relatives because the birth parent has a serious problem that impairs the ability to provide a safe environment for the child, hence the embarrassment for the caregiver.
Anger can be overwhelming, as well. "Sometimes you do just want to scream," said Potter. "Those first couple of years are the toughest. There are so many losses. You lose your friends, some lose their finances by cashing in retirement to pay for care of the child."
She said there are resources available for caregivers, but the person giving the care can sometimes be the last to find that out. She said it took two years to learn the lingo to be able to get state funded health care for her granddaughter.
There are many issues relative caregivers face, including the challenge of parenting a second time around, which was the subject matter for a training program Potter participated in, thanks to Casey Family Programs in Yakima. The same group also provided her with Powerful Families training, which allows her to teach financial literacy, advocacy and leadership to others in nine-week courses.
"I've got all of this information and I want to share it," said Potter.
She said the government is just now starting to recognize kinship caregivers and the stability they provide to a child that's lost a birth parent.
"We get a little stipend for the kids," she said, noting sometimes it's not enough, especially if the child is older. "We just want to be treated like foster parents.
"There is a burden there, but the child is not the burden, it's a burden from the system."
Sharing the emotions one goes through is as equally important as educating others how to navigate through the system. That's why Potter has opened up her home for the support group.
She said there are currently five kinship caregivers that meet at her home at 612 Miller Avenue in Sunnyside at 6:30 p.m. every third Tuesday of the month.
Potter begins by asking if there is someone present that has an immediate need, like clothing or food. If not, she then asks if anyone has an emotional need that needs to be addressed. Potter laughed and repeated, "Sometimes we just need to scream!"
Children do not come to the meetings because caregivers need an emotional outlet without exposing the child to it.
"These kids are going through enough problems of their own. The last thing they need to know is they're adding additional stress to their caregiver.
"The kids come first and making them the best little people they can be."
Potter said, "In Sunnyside alone, there are over 300 kinship caregivers." Potter noted how small the group is that meets at her home. "Where are the rest of them? They need to get (themselves) over here!"