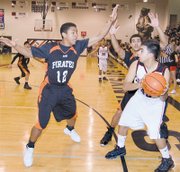 The Sunnyside Grizzlies boys basketball team suffered its second loss to the Davis Pirates in CBBN Columbia Division play but bounced back on Saturday to defeat the Moses Lake Chiefs.
The Pirates are the only team that have beaten the Grizzlies in league play.
The Grizzlies stuck with the visiting Pirates on Friday night for most of the game but Davis built an 11-point lead in the third quarter and Sunnyside wasn't able overcome that.
"We didn't do a good job of keeping them off the offensive boards," Sunnyside Coach Ron Rowe said.
The Pirates grabbed 40 rebounds in Friday's performance with 24 of them coming off the offensive glass.
"That's not good," Rowe added.
Sunnyside led after one quarter, 14-13, but trailed by one point at halftime, 29-28.
The Grizzlies did a good job defensively on Marquis Jackson and Devonte Luckett, holding them to a combined 10 points for the game. However, three other Pirates stepped up to pick up the slack.
One of those stepping up was Herman Mendoza, who scored 25 points on Friday. Rowe said Mendoza was able to penetrate and when he didn't do that, Mendoza was able to hit the basket from 8 to 10 feet out.
In the third quarter Davis sprinted out to an 11-point lead and Sunnyside was able to cut it back to four points a few times in the fourth quarter but could never get any closer than that, despite having several opportunities.
The Pirates were able to hold off each Grizzly charge and came away a 75-69 win.
James Sanchez led Sunnyside with 19 points and two assists. Israel Manzo had 15 points, five rebounds and two assists. Alfredo De La Barrera added 13 points, grabbed seven rebounds and made two assists.
Jordan Esqueda had seven points for the Grizzlies. He also made four assists and recorded three steals. Teammates Matt Johnson, Jacob Bos and Chance Graff each contributed four points to the Grizzly cause and Matt Bermudez had three points.
Besides Mendoza's 25 points, the Pirates were led by James Carter and David Trimble with 17 points each.
"Overall we played hard throughout the ball game," Rowe said. "It was a tough ball game to lose but we gave it a shot to get at them."
On Saturday the Grizzlies traveled to Moses Lake where they bounced back with a 57-47 win over the Chiefs.
Sunnyside was able to get off to a good start in the first and second quarters, leading Moses Lake by five points, 27-22 at halftime.
"We were able to effectively use our press and forced them into numerous turnovers," Rowe said.
The Chiefs committed 26 turnovers in the game, compared with Sunnyside's 11. This helped the Grizzlies offset the rebounding numbers, where Moses Lake held a 42 to 33 advantage.
"Our offense did a good job of moving the ball," Rowe added. "Moses Lake played zone most of the time and we were able to cause them to exert a lot of energy when they covered us."
More importantly, the Grizzlies held Tyler Raymond, a 6'5" forward for the Chiefs, scoreless in the game. Another top Moses Lake player, Jordan Wilkes, was also held scoreless.
Sunnyside was up 36-33 to start the fourth quarter and then used a quick spurt to widen its lead.
"We kept the pressure on them defensively and took them out of their offensive game," Rowe said.
Led by Bos (eight points) and Manzo (six points) in the fourth, Sunnyside put up 21 points to seal the win.
Manzo finished the game with 18 points, 12 rebounds and five steals. Bos put up 14 points and recorded two steals. Sanchez had 11 points for the Grizzlies and grabbed six rebounds. De La Barrera added eight points and had four assists. Johnson finished with four points and Graff had two.
"We showed a lot of mental toughness coming back from a tough loss," Rowe said. "We came through with a real strong ball game."
Sunnyside (6-2, 9-4) will host the Hanford Falcons on Tuesday, Jan. 26, at 7:30 p.m.