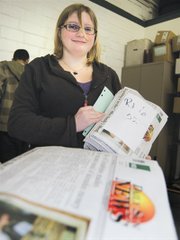 Many boys and girls begin their venture into the world of capitalism with first jobs of delivering the newspaper, as have the many young people who've passed through the halls of the Daily Sun News.
David Humpherys is one such person.
Now director of family-owned Valley Hills Funeral Home, Humpherys credits his newspaper delivery days with teaching him customer service and marketing skills, personal accountability and financial literacy.
Back in his day, when he was in sixth and seventh grade, he says, "You're running your own little business. It's not like they're paying you for two hours of work a day...we screwed around sometimes, but you had to get your papers delivered. You have to pay that news bill whether your client pays for it or not. You've got to account for your dollars."
By the time he was old enough to begin working in the family business of funeral home operations, "I think I already had about $3,000 saved up."
Much to the young Humpherys' dismay at the time, his mother was taking half of his Daily Sun News paychecks. "(She) bought savings bonds," he said, making a mental note to check on them, as he'd forgotten about it until recently.
Humpherys said the newspaper carrier job enhanced his communication skills, as evidenced by the plethora of packaged chocolates he was able to sell to his downtown subscribers on any given day. Of selling the money to raise chocolates for his school, St. Joseph's, Humpherys said, "I'd take two boxes out with me every day on my route and could sell them all."
At ease with people, Humpherys said he recalls speaking to an elderly woman in what was then Giffens Department Store in downtown Sunnyside. "I remember telling her when she passes away, she should come to our funeral home," he recalls. "Everybody laughed."
Two years ago at a funeral, she reminded Humpherys of that encounter. "I'm surprised she remembered me 16, 17 years later."
He recalls many business owners on his route, as well. "The guy at Beck Jewelers would always harass me because he was friends with my teacher at school," Humpherys recalls with a smile. "Sometimes I'd come in there after school and my teacher would be in the shop. My buddy and I'd be horsing around, we'd walk in, and he'd be standing right there." Young Humpherys would snap to attention for his teacher.
Kindness is fondly remembered as well. One customer would give him homemade pinwheels. Another would offer up a soda to beat the summer heat.
Accountability was a must, even if it had to be learned the hard way. "You sure heard about it if you forgot someone's paper," he says. "You just hoped they called you first, because if they called the newspaper, you were gonna get a chewin'!"
Humpherys credits his job as a young newspaper carrier for his communication skills and the way he's able to interact with people in tough situations, as well as fiscal responsibility.
He says as a Daily Sun News carrier, he learned, "If you're going to start something, you need to finish it."
Herbert Martinez, today in his 30s, recalls his days as a young paper carrier, too. It's no small surprise, then, when his daughter Joscelyn wanted extra spending money, Martinez pointed to the Daily Sun News doors.
"She said, 'How's that work?',"Martinez recalls with a laugh. Joscelyn Martinez got her own route, and was often aided by little sister Kayla.
"I started getting into it," says Kayla, who now spends every Monday through Friday afternoon scampering from door to door in the West Harrison Heights area delivering papers with the help of her mother, who patiently drives her from home to home.
"I was telling them I did it on a bike," joked the older Martinez, who's a firm believer the paper route teaches personal responsibility. He says the plan is for his now 10-year-old daughter Natalie to take over the route when Kayla's ready to give it up. And by then, his youngest, Brandon, who's 3, might be able to do it. "(He) sometimes delivers to a house or two," Martinez says with a smile.
Kayla Martinez says it is sometimes hard to get motivated to do the route when she is juggling cheerleading and basketball, as well as keeping up on school work. But she knows the rules at the Daily Sun News: "If you can't do it, you need to find someone who can do it for you."
She says she's pleased with the money she earns delivering the paper, and with the help of her parents, she's building a small savings.
She appreciates the kindness of the subscribers on her route, too. "This Christmas I got five presents from them!"
"You learn respect, how to handle money, patience," says the older Martinez. "I remember one day picking up $60 or $80 on a doorstep, so I just knocked on the door and said, 'Here, you dropped this'."
He thinks for a moment, then adds, "I'm still using what I learned."
Young Christeen Woods has been a newspaper carrier for the Daily Sun for four years.
She says she knew exactly where to turn when she needed a job. "The way the economy is, it was just the fact that it's going to be hard for a 15-year-old girl to get a job," she says. "So I figured, why not?"
Woods is emphatic that the job teaches discipline. And, she adds, "It proves to me that one day I'll be able to keep a job. It makes me feel proud of myself."
Woods' two older brothers, Lance and Jordan, worked as carriers, too, but it was one of their friends that suggested she get to work. "I kept saying I wanted an MP3 player and he said, 'Then go get a job, go get a paper route'."
Since then, she's gone through two MP3 players and is saving for iPod Touch. And, she proudly adds, "I have a cell phone now. I pay the bill and everything. Pretty soon, I'm going to shoot for a better cell phone."
Woods' lesson learned, so to speak, could just as easily apply to adults as to children.
"If you want to save up for something that's really important in your life, you can shoot for it. Just wait, and you'll be able to get it.