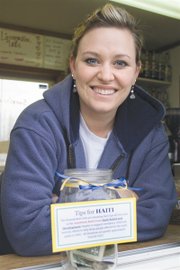 Sara Palomarez is issuing a challenge to the Sunnyside community: trek to your favorite espresso stand this week, order your favorite coffee and tip your barista. After all, it's likely your barista is part of multi-coffee stand effort to raise funds for relief efforts in Haiti.
Palomarez, the owner of Homestretch Espresso, said she issued a challenge to her fellow coffee stand owners to donate all tips collected this week to help the cause.
So far, Guerra's Coffee Company, Schoolhouse Espresso and Daily Buzz have stepped up to the challenge.
Palomarez said she felt compelled to help after watching news reports on the earthquake in Haiti.
"I remember seeing the (Haitian) children on the news when it first happened," she said. "That more than anything is what sticks with me."
The challenge is on for this week only and Palomarez said by 1 p.m. yesterday afternoon, Monday, $100 had been donated.
"One customer said what better way to do it than by ordering your favorite coffee," Palomarez said, adding the woman wasn't aware of any place locally to donate to Haiti relief efforts, and had so far been too busy to donate online.
Palomarez said all funds will be donated to the American Red Cross Haiti Relief and Development Chapter.