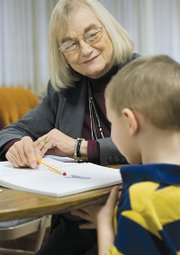 Students in Miss Mary Schlenker's preschool at the United Methodist Church in Sunnyside are part of a nationwide study, and chances are they don't even know it.
That's according to Barbara Merz, a speech and language pathologist who currently works part time for the Grandview School District and has several students in the Yakima Valley.
Merz said she was contacted by Western Psychological Services to assess the speech patterns of normal preschool-age children, then send off the data to them. After that, she said, "It becomes data for thousands of kids across the nation."
The company develops the Arizona test. Currently in use is the Arizona 3 version. Merz's work will be contributed to the next version.
"They are developing a new set of norms because just as reading skills and other skills develop over time, they want to make sure we're not comparing 2010 kids with kids from the 1990s," she said.
Data is compiled about every three years and becoming part of the process isn't easy. In fact, Merz said, that Schlenker's class was selected is a feather in the preschool teacher's cap. Merz suggested the Methodist preschool, but it had to be approved in order for testing to commence.
Merz noted the company was quite specific that it needed preschool age children and the company was interested in this area. "Yakima County is designated low income," she said, noting it wouldn't be a "normal" sampling of kids across the nation if only children from affluent homes were tested. By testing here, she said, "They're finding a 'normal' population with this, actually."
Merz said the updated test might be available as early as this fall.