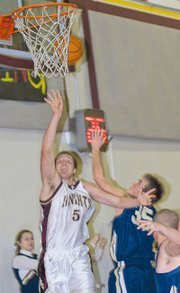 The Sunnyside Christian High School boys basketball team used a 20-9 first quarter run to defeat the visiting Moses Lake Lions 61-36 last night, Tuesday.
Moses Lake was still in contention at the half, down 30-16, but the Knights removed all doubt in the third stanza with a 26-10 surge to seal the win.
"Their strength is they have guards that can push the ball and ours is our size," Sunnyside Christian Coach Dean Wagenaar said of his team's quick start in both halves. "We were able to identify their shooters and put pressure on them, then penetrate and get our big guys' shots around the hoop."
It also helped that the Knights shot better than 50 percent from the field (28-of-52 attempts), while the Lions mustered less than a 25 percent clip in shooting from the field (12-of-51).
Wagenaar also noted that Sunnyside Christian's balanced attack with four scorers in double figures also posed a problem for Moses Lake Christian.
"We had some great balance and they couldn't key on any one guy," he said.
Trevor Wagenaar led the Knights with 15 points, followed by teammates Kevin De Jong and Steven Broersma with 14 points each. Tim De Vries added 10 points for the Knights and hauled down 11 rebounds to record a double-double.
For the game, Sunnyside Christian outrebounded Moses Lake Christian 36-22.
The Knights (4-0, 10-3) travel to Bickleton on Friday and Klickitat on Saturday.
MLCS 9 7 10 10 - 36
SCHS 20 10 26 5 - 61
Sunnyside Christian -Wagenaar 15, De Jong 14, S. Broersma 14, De Vries 10, Bosma 6, Brouwer 2, Burton 0, B. Broersma 0, den Hoed 0, Haak 0.