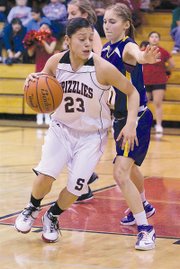 The Sunnyside girls basketball team played the Hanford Falcons close for two quarters last night, but fell behind in the second half and eventually lost 62-37 in CBBN non-division play.
A bright spot for the Lady Grizzlies was the return of Sam Wright, who had missed the past two games because of an illness. She scored two points in the first quarter and Sunnyside Coach Eric Berg said Wright's return gave an energy boost to the team.
Sarasa Partida and Toni Castillo combined for eight points in the first quarter as Sunnyside kept pace with the Falcons. After one quarter the score was knotted at 14.
The Lady Grizzlies continued their good play in the second quarter, but fell behind by four points, 27-23, before halftime.
"We played really well in the first half," Berg said of his team. "We didn't have the same team in the second half."
Berg blamed the defensive effort of his team on the second half collapse, adding the Lady Grizzlies failed to react quickly enough to Hanford's big players. He explained that in the first half his players were able to double up the Hanford players when it was needed. In the second half Sunnyside was a step too slow.
Hanford outscored Sunnyside 16-8 in the third quarter and then more than tripled the Grizzlies' output in the fourth, 19-6.
"They were hitting their shots," Berg said of the Hanford players.
Sunnyside was led by Partida with 12 points. Destiny Maya finished with nine points for the Grizzlies and Toni Castillo had four points.
Berg pointed out the play of both Castillo and Hannah Marro.
"They played real well at the post position," he said.
Jessie Robert and Ruby Herrera both scored three points for Sunnyside. Teammates Marro, Wright and Sammie Reyes contributed two points, each.
Hanford was led by Laura Hughes with 14 points. Moran Freeman added 11 points for the Falcons. Teammates Emily Albertson, Erin Hagerty and Patron Miller added 10 points, each. Sam Merry had five points and Taylor Young finished with two.
Sunnyside will get back to divisional play on Friday, Jan. 29, when the Lady Grizzlies travel to Kennewick to take on the Southridge Suns at 7:30 p.m. On Saturday, Jan. 30, Sunnyside will travel to play the Kennewick Lions at 5:45 p.m.