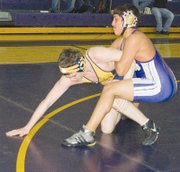 MABTON - Short of wrestlers due to eligibility issues and injuries, the Mabton Vikings took it on the chin last night, losing the last SCAC wrestling meet of the season to the Naches Valley Rangers, 51-6.
Things started out well for the Vikings on senior night. The team's only senior, Margie Gutierrez (135 lbs.) picked up a 3-2 win against Chelsea Robles.
The match was 0-0 after the first round and Gutierrez scored an escape in the second to lead 1-0 heading into the third. Robles then tied the match at 1-1 with an escape before Gutierrez got a takedown to extend her lead to 3-1. Chelsea picked up another escape late in the third to make it 3-2.
The Vikings then had to forfeit the next three matches, which put them down 18-3.
In the 160-lb. match Mabton's Frank Martinez was pinned by Tanner Slick in 1:31. The pins continued in the 171-lb. match when Noe Gutierrez was pinned by Naches Valley's Cody Guerard in 3:42. Mabton's Bryan Arellano was pinned by Jon Whitney (189 lbs.) in 3:24, then Eric Huesca (215 lbs.) was pinned by Naches Valley's Noble Stoneman in a mere 49 seconds.
Neither team fielded wrestlers in the 285-lb., 103-lb. and 112-lb. matches.
Mabton's Vicente Mireles lost to Naches Valley's Jossi Rosario, 9-7, in the 119-lb. match.
The Vikings added to their three points in the 125-lb. match when Danny Magallon was able to beat Michael Ramsey, 10-4. Magallon was ahead 6-1 after the first round, then scored a three-point near fall at the end of the third to seal the win. The victory boosted Magallon's record to 18-5 for the season.
The loss drops Mabton's record to 2-4 in league play and 3-7 overall. The Vikings will compete in the Zillah All-Comers Tournament on Friday, Jan. 29. Districts begin for the Vikings on Saturday, Feb. 6, at Granger.