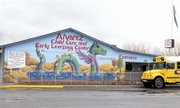 A Sunnyside day care facility last week resolved a complaint stemming from an accident in June 2009 that fractured a child's collarbone.
State officials say the complaint against Alvarez Child Care in Sunnyside was filed after a five-year-old boy fell off a slide while in care at Alvarez and fractured his collarbone.
That's according to Amy Blondin, a spokeswoman for the state's Department of Early Learning.
"We determined that the boy's parents weren't properly informed of the incident, and only found out about the injury and cause of it after taking the child to the emergency room," said Blondin. "The provider said they did not report to the parents about the incident because they did not have reason to suspect injury."
She said Alvarez was cited for violating a state code related to informing parents of an injury.
Attempts were made to reach Alvarez for comment, but phone calls were not returned.
Blondin said the complaint was resolved last Wednesday, Jan. 20. In addition, she noted the day care's probation status stemming from the event was lifted last August.
As for what Alvarez did to resolve the complaint, Blondin said the day care worked at length with the Department of Early Learning regarding incident reports and notification to parents.
"We also referred the facility to the local child care resource and referral agency for consultative services," Blondin said. "It was part of their probationary conditions."
The broken collarbone incident last June followed on the heels of a previous injury at Alvarez, when state officials say in November 2008 a child suffered an arm injury at the day care.
"It was an incident where a childcare worker went to pick up a child who fell and the elbow was dislocated," Blondin said. "The investigation found that it was an accident and the staffer grabbed the child wrong."
Blondin said a key issue was that Alvarez did not notify the Department of Early Learning about the injury, a violation of state policy.
At the same time, Blondin said the state agency is now confident of Alvaraz's ability to safely care for children following the steps it has taken since then to make sure future incidents, if they occur, are reported.
She said Alvarez is also making sure records are in order.
"They are meeting all the state rules for licensed child care," she said. "They are offering a safe and healthy environment."