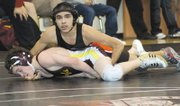 With a league title on the line, the goal for 3A Sunnyside was just to stay competitive with 4A Moses Lake in last night's regular season wrestling finale.
Sunnyside was not only competitive, but very nearly came away with a victory before losing 36-24.
The Grizzlies entered Thursday night's home match with a league record of 4-1, while the Chiefs were 5-0. Both teams were ranked in the top 10 statewide in their respective classifications.
"It was a good match and it could have went either way," said Sunnyside Coach George Paulus. "It came down to mere seconds."
The night's first bout provided an example of that, as Sunnyside's Frankie Ochoa (215 lbs.) looked like he was going to lose 7-0 to Moses Lake's Bryan Chamberlain.
But instead of surrendering a three-point decision, the Grizzlies gave up six team points when Chamberlain scored a pin with just 15 seconds left in the bout.
Jose Barajas (285 lbs.) got Sunnyside back on the winning track when he defeated fourth-ranked Brian Fluitt 6-2. "Jose's the real deal," Paulus said of Barajas' 22-1 season record.
The next Sunnyside wrestler, Nathan Gonzalez (103 lbs.) kept his record spotless at 31-0 by closing out the regular season with a pin over Tanner Long in 3:48.
After Moses Lake's Hayden Wise (112 lbs.) defeated Sunnyside's Gerardo Villalbos 4-2 in overtime, the Grizzlies rallied with three consecutive victories.
The momentum began in the 119-lb. bout when Daniel Guillen defeated the Chiefs' Bradley Fox 4-1.
Next up was Sunnyside's David Vidales (125 lbs.), who outlasted Andrew Valdez 10-8.
The third consecutive win came at 130 lbs., when Sunnyside's Emmanuel Tejeda decisioned Colton Cole 5-1.
By that point, Sunnyside was leading 18-9. Moses Lake responded with a 27-6 scoring run the rest of the way, winning seven of the final eight bouts.
The Chiefs started taking control when Jordan Bishop (135 lbs.) decisioned the Grizzlies' Isidro Ramirez 7-3.
Moses Lake's Rico Moreno (140 lbs.) followed by pinning Sunnyside's Miguel Madrigal in 3:15.
Moreno's brother, Nico (145 lbs.), then pinned Sunnyside's Andy Cantu in 3:14.
After Sunnyside's Caleb Gomez (152 lbs.) was defeated 5-3, Ryan Hernandez gave the Grizzlies a spark in the 160-lb. match when he pinned Luciano Hernandez in 3:25.
At that point, Sunnyside was still in the match with two bouts left, down only 27-24.
Moses Lake clinched the victory, though, when Logan Phelps (171 lbs.) rallied from what appeared to be a losing decision to pin Sunnyside's Lupe Mendoza in 3:25.
"Lupe was dominating," Paulus said. "He put him (Phelps) on his back and got reversed to his back. It went from a win to a pin. That was the one that decided it."
With the decision in hand, Moses Lake then wrapped up the evening when James Fitting (189 lbs.) decisioned Sunnyside's Adrian Ramirez 5-1.
"There were lots of opportunities in the match but they just didn't fall on our side," said Paulus. "I feel good about the fact that we were in the match. At least it wasn't a blow out, which potentially could have happened."
The Grizzlies now turn to the postseason, which starts with Sub-Regionals next Friday and Saturday, Feb. 5-6, at Mead High School in Spokane.
The top four finishers in each weight class advance to Regionals the following weekend.
Paulus likes his team's chances.
"We have all 28 kids going and I fully expect to get points out of our B team (JV)," he said. "We're turning up and getting tough for a three-week run."