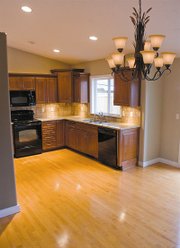 The Cottages at Quail Cove is the newest project in Sunnyside that aims to offer high quality, well-built homes for an affordable price.
"This was built for the people of Sunnyside," John Booth said.
It was Booth and his family that built the project on Harrison Hill. Not only have Booth and his family provided new affordable homes in Sunnyside but the project also employed nearly 200 people throughout the process, providing much needed jobs as the country digs itself out of the current recession.
The gated community sits off Columbia Avenue on the newly built Cabot Lane. Four houses are already built on approximately two acres with two more expected to be ready within the next four months, bringing the total to six.
It breaks down to three two-story homes and three single-story homes. The two-story homes come with two-car garages and the single-story homes have single car garages.
Booth said the houses range anywhere from approximately 1,200 square feet to 1,800 square feet.
The homes are top of the line, with each being designed by one of Booth's sons, and built by a member of his family.
The houses come pre-wired for high-speed internet service and are plumbed for an electric or gas clothes dryer.
The kitchen areas are amazing, with top of the line appliances installed. Another neat feature is the cabinets and drawers built in the kitchen areas. They are all spring-loaded and will close with just the slightest effort.
The stoves are glassed topped, which makes cleaning a snap. There is even a 'lazy Susan' cabinet, which adds extra storage for pantry items. There is lighting above and below the cabinets that adds a nice touch and increases visibility.
Storage isn't a problem in the new homes on Cabot Lane. Most bedrooms come equipped with large walk-in closets.
The landscaping around the homes isn't quite finished but Booth said it will be a mixture of rock, bark, shrubs and trees. The Cottages at Quail Cove will also be governed by a homeowners association. He said the homeowners on Cabot Lane will elect a president and a vice president. A small monthly due paid by each homeowner will ensure work like weed and snow removal will be kept up.
For security purposes, an island of locking mailboxes has been installed. Booth will add the gate to the entrance to the Cottages at Quail Cove soon, which he said will also provide extra security.
An open house will be held at the Cottages at Quail Cove the weekend of Feb. 6-7. For more information about the Cottages at Quail Cove or the open house, Booth can be reached at 837-8106.