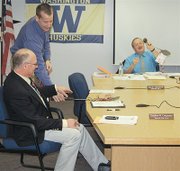 Sunnyside School District Superintendent Dr. Rick Cole received high praise from the Sunnyside School Board last night following an annual performance review.
Thursday night's review was wrapped up following an executive session. Prior to that, the board had met in executive session for two hours earlier this month to discuss Cole's performance.
"It's been a pleasure working with Rick," School Board Chair Miguel Puente said following the executive session.
Besides a positive review, the board after executive session last night agreed to extend Cole's contract by an additional year to June 30, 2013.
The board graded Cole on five standards.
The first was providing recommendations to the board in support of the district's mission.
"In general, Dr. Cole excels in this area," the board said in the evaluation. "Information requested by the board is provided in a thorough and timely manner. Rick is an active contributor to board development. The interaction with the local school board is at an appropriate level."
In addition, the board noted that its partnership with Cole has "continued to evolve into a high functioning professional learning community - the evolution has been assisted by Dr. Cole's active participation."
At the same time, board members praised Cole and his willingness to accept differing opinions "as decisions are developed in support of student learning and what is best for our kids."
The second standard involved conveying a learning vision that is evident throughout the district.
"Dr. Cole has embraced and championed the board's belief that all students can achieve at high levels," the board noted in assessing Cole. "His active work articulating the board's belief that all students can achieve at high level include active participation on committees, focused interaction with direct reports, formal and informal discussions with parent groups, and communication strategies with community members."
Cole was also praised for bringing in outside consultants to evaluate the work of school building staffs. The goal is to make sure that the vision is shared and understood across all of the district's schools.
"Dr. Cole is working hard on alignment and the challenge of making sure our vision permeates the entire district. We look for continuous improvement as this work continues," the board said.
The third standard involves creating a district culture that creates a climate conducive for student achievement and improvement.
"Dr. Cole has made key contributions to our district's ability to make date-driven decisions," he said. "Our current work to assess our progress towards accelerated student achievement has benefited from Dr. Cole's interaction with the board, he excels at keeping the board informed of progress and is well versed in the organizational change process."
The fourth standard involves management of district operations.
"Dr. Cole has commissioned at the board's request a full review of the district's operational and organizational structure," the board noted. "The review will be asking key questions on the alignment of roles and responsibilities."
Cole was also praised for helping the district maintain a "favorable financial position."
The fifth standard reviewed Cole's performance in collaborating with parents and the community.
In this area, Cole was particularly praised for instituting the "What Counts in Sunnyside" community outreach event each year.
"Efforts are being made to include all patrons in the decision making process - materials are translated when needed," the board added. "Dr. Cole's skills here are very evident. He is generally out in front of any issue that requires or will require media attention. He has developed good relationships with the media and the community."
The review was positive overall, but the board also saw some needed areas of growth for Cole and the district.
Areas needing improvement included: eliminating audit findings, making sure all of the school buildings reach out to parents, developing management plans for the superintendent and all administrative staff and making significant progress towards having 100 percent of all students reaching grade level on standard assessment tests.
The review closed with an opportunity for Cole to comment. "Sunnyside is ready to make significant progress in academic gains for students with aligned curriculum based on state standards," Cole said. "Clear management goals and reorganization will continue to move this district forward."