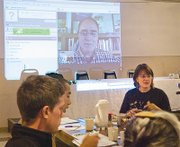 PROSSER - Yesterday morning (Thursday) those attending the monthly grape fieldman's breakfast at the Barn Restaurant in Prosser were treated to a Skype discussion on climate change with Professor Greg Jones of Southern Oregon University.
He first asked those at the meeting what growers are experiencing in the Yakima Valley and Columbia Basin as a result of the spring weather conditions.
All shared much of this year's crops are behind, with some vineyards still having bloom on them.
Jones said the weather, too, has kept grapes from developing according to annual growth patterns in the Rogue Valley. "We're about two weeks behind," he noted.
His research into climate change is rapidly gaining recognition among agriculturalists and researchers nationwide, according to Washington State University's Gwen Hoheisel.
Jones' insight to climate conditions is what Hoheisel believed was invaluable to those gathered at the meeting.
Because those who work in agribusiness are dependent on the weather, Jones said, it is important to note growers, and anyone whose lifestyle is dependent on agriculture, don't ignore changes in climate.
"We tend to adjust," he shared.
This year is one of the coldest since the 1960s, according to Jones. Because of the unusual weather and low temperatures, growers have had to deal with a number of climate conditions in a short period of time.
His research suggests those in the grape industry needn't worry too much, however.
Jones has studied a number of varieties of grapes, with the exception of Concords. Many of the varieties, he said, adapt to long periods of specified climate conditions. There can be an issue if the grapes have adjusted to a specific condition and a sudden change takes place.
Using a region in Canada as an example, he noted vineyards that adapt to a climate with several years without a winter freeze will suffer when the region experiences a winter freeze.
"There are still a tremendous number of issues that research can address to help growers," shared Jones.
Wine grapes, he noted, are one of the world's most recognizable cultivars, and that is the reason he uses vineyards for his research.
Jones has studied climate conditions globally by researching the grapes grown in various regions of the world.
He said some naysayers told Willamette Valley (Oregon) growers in the 1960s the climate there is not suitable for wine grapes.
"Now, with the change in climate, wine grapes grow quite successfully there," shared Jones.
By comparison, Don Waddle of Bleyhl Farm Services said Eastern Washington grape growers were in the 1970s told the winters were too harsh for any variety but Rieslings.
The discussion continued with Jones saying he doesn't believe Eastern Washington will experience winters like it once did.
"The climate has warmed enough to provide a suitable climate for the success of the wine industry," he explained.
He noted differences in climate have been experienced in Europe, as well. A region in Germany that had not been experiencing high amounts of precipitation has in recent years been experiencing a lot of rainfall. The conditions created a potential for erosion, but agriculturalists in the area have adapted, devising ways in which to prevent severe erosion conditions.
Other regions in Europe, shared Jones, are now experiencing drier climates than in history. There, too, the growers are adapting.
"If you (the grower) were experiencing a climate no longer suitable for your vineyards, you would plant a different variety just as a home gardener would plant something suitable for the climate conditions," he continued.
"There is no doubt human influence can affect climate," shared Jones, stating much of what has been purported as contributing factors for climate change is only part of the story.
"As we alter the urban environment, making it more heat retentive we warm the environment around us," he explained, noting concrete, pavement and the removal of vegetation brings about changes in climate conditions. But, he shared, those elements of the human role in changing the climate are often "overlooked."
Numerous factors, according to the professor, contribute to climate change. The best way in which growers can produce viable crops, however, is to consider the variety and the conditions for which that variety is best suited, with many grape varieties having a wide range of adaptability.