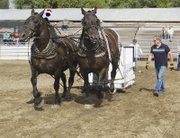 GRANDVIEW - The team pull event at this year's Yakima Valley Fair & Rodeo will take place on Friday, Aug. 13, at 1 p.m.
The event is put on by the Washington Draft Horse Pullers Association and sponsored by local individuals and businesses.
This year the team pulls are open to minis, ponies and riding horses, as well as drafts. Each team will have a chance to pull a sled of weights on a track. The weight on the sled is increased until only one team is able to pull it.
Any local team owner who would like to participate should come to the fairgrounds one hour early to register. Cost is $25. Call Bryce Humpherys at 305-6845 for more information.
The Grandview fair will also feature a Friesian driving exhibition, featuring Friesians owned by Wil and Teresa Bron from Granger. The exhibition is scheduled for Saturday, Aug. 14, at 4 p.m. The Brons are active breeders and trainers of Friesian horses participating in horse shows around the Northwest. Will Bron is the president of the Northwest Friesian Horse Club.
The exhibition will showcase different driving events and include multiple horses, including the Brons' Friesians.