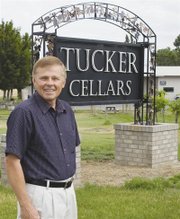 Tucker Cellars will mark its 29th anniversary with a party on Saturday, July 17.
Located near Sunnyside at 70 Ray Road, Tucker Cellars will celebrate from 10 a.m. to 5 p.m. that day with a birthday cake by Bon Vino's, as well as music and wine case specials.
The birthday bash will also feature a presentation of Ruby and Tawny ports for visitors.
Tucker Cellars was founded in 1981 by Dean Tucker.
The Tucker family's connection to wine grapes in the Yakima Valley actually dates back to the 1930s, when Dean's parents, Vera and Melvin, planted vineyards.
When Dean Tucker died in 1999, his son Randy continued the family tradition.
Tucker Cellars has grown from two wines offered in 1981 to a family of wines that now numbers 16 today.
Randy Tucker noted that there will be outdoor activities during the July 17 birthday bash.
Among them, he says, will be a trip down memory lane as historical photos from the Tucker family will be on display on a series of easels set out near a sampling vineyard next to the winery.
In addition, Tucker has old wine labels from the winery's early days, as well as fruit box labels from the years when the Tucker family had a fruit stand.
Located across Ray Road from Black Rock Creek Golf Course, Tucker Cellars can also be reached at 837-8701.