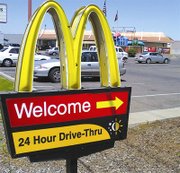 A new home for the golden arches and two new single family homes accounted for more than half of the $1.26 million in new valuation for building starts approved in Sunnyside last month.
Topping the list by far is the McDonald's restaurant at 2200 East Yakima Valley Highway, which received a building permit from Sunnyside building officials in June for new construction valued at nearly $560,000.
It's the first of likely multiple permits to be issued for the restaurant as, when completed, the new eatery to be built near the existing McDonald's will cost nearly $2 million.
In related news, McDonald's also received a permit last month to eventually demolish the existing restaurant building.
The city of Sunnyside received a little more than $6,000 in fees from McDonald's for the two permits. For the month of June, Sunnyside coffers netted an overall total of $19,444 in fees.
Building permits were also issued last month for two new single-family homes in the Aho development in Sunnyside. The houses are both three-bedroom, two-bath homes and have a combined valuation of just under $250,000.
Sunnyside garnered $3,700 in building fees from the two homes combined.
The other large project receiving thumbs up last month is the installation of a drive-in pallet rack for Darigold at 400 Alexander Road.
The pallet rack has a valuation of $174,000 and Sunnyside received $2,327 in permit fees associated with the project.
Other notable new Sunnyside building starts in June were an addition to a house in the 400 block of East Allen Road ($88,200 valuation), a foundation for water storage tanks at Independent Food ($73,795), and a demolition permit for a site in the 1300 block of South 11th Street ($50,000).
The month of June also turned out to be a boon for re-roofing permits in the city of Sunnyside. A total of 12 re-roofing permits were issued by Sunnyside city building officials last month, with a combined total valuation of $74,196. Sunnyside garnered $1,613 in fees last month from re-roofing permits.
For the month of June, Sunnyside officials issued 74 permits, 41 of them related to building.
In addition, the month saw city employees conduct 400 inspections, with 231 of them related to buildings. Another 78 inspections were for water or sewer connections and 61 others were related to plumbing.