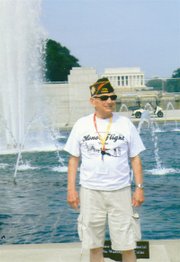 Serving in an infantry division attached to General Patton's third army, Roy Culver of Sunnyside was there when the city of Pilsen, located in what was then Czechoslovakia, was liberated from the Nazis.
He saw firsthand a Nazi concentration camp and gave nearly three years of his life to serve in the World War II military.
Earlier this month, Culver's service was honored as he was one of 35 World War II veterans selected for an Inland Northwest Honor Flight to Washington D.C.
The non-profit program covers all of the expenses for the veterans, including hotel, meals and airfare.
"It was a whirlwind trip but well worth it, let me tell you!" Culver said with a big smile as he recalled the two-day trip.
Prompted by a friend, Culver submitted a successful honor flight application earlier this year.
Culver said he and the other veterans were treated like heroes whenever their flight touched down along the way to and from D.C., including the presence of honor guards.
The biggest reception, he said, was when they all returned to the Spokane airport. "Two hundred people greeted us," he said.
Culver said the centerpiece of the trip was visiting the World War II Memorial in Washington D.C. "It was really impressive," he said of seeing the memorial for the first time.
Another highlight, he said, was seeing the changing of the guard at the Tomb of the Unknown Soldier. Veterans on the Honor Flight also visited memorials dedicated to veterans of Viet Nam and Korea. "We toured the city," he said of the visit to Washington D.C.
Culver, who has cancer, said he appreciated the way the Inland Northwest Honor Flight organizers have guardians assigned to each veteran. Guardians make the trip at their own expense. Besides assistance from guardian/care givers, Culver said the organization also had chaplains available.
"I'm really proud of these guys, they did a wonderful job," he said of the Inland Northwest Honor Flight organization.
Culver got to know some of the other WWII veterans on the trip, noting their stories of parachuting behind enemy lines and staring down Kamikaze attacks.
The trip was so memorable, and the veterans treated so well, that Culver knows of folks here in the Lower Valley who deserve an Honor Flight.
One in particular came to mind.
"I'd love to see Les (WWII POW Les Amundson) take this trip," Culver said.