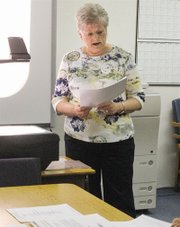 BICKLETON - Bickleton School Board directors adopted a $12,360,490 budget for the 2010-11 school year. The number is massive for the small community just over the Yakima County line in Klickitat County.
The reason the budget is so big is because the school district received an infusion of cash from the state and voters recently approved a bond for the construction of a new K-12 school in Bickleton. The construction project will also modernize the gym.
Construction is expected to begin in August and Bickleton School District Business Manager Judy Naught said the new school could be ready for the 2011 class to graduate in.
Other than the capital projects fund, the budget was more or less consistent with past budgets.
Bickleton School District is expected to educated 80 students in grades K-12 this school year. That number is down from 97 students from the previous school year.
Bickleton Superintendent/Principal Ric Palmer told the school board Bickleton doesn't receive money based on the number of FTEs because the school district is so small. Special education money, however, is dependent on how many students there are.
In the general fund the school district is starting out with $455,000. Naught said Bickleton expects to take in $1,703,756 in revenues and plans on spending $1,722,035 to leave an ending balance of $436,721.
The district's ASB fund has a beginning balance of $22,596 and Naught said she expects $35,700 in revenues for the 2010-11 school year. The ASB fund is expected to have the same carry-over as it did at the end of this year.
Naught said $9,000 of the expected revenues is from the estate of Maxine McCauly, a former Bickleton resident. Known as Maxine Gaines when she lived in Bickleton, Naught said the money has been set aside as a college scholarship for a Bickleton High School senior.
The debt service fund has a beginning balance of $563,372 and the district expects to receive $787,840 in revenues and other financing sources. The district expects to spend $678,781 of that, which will leave the fund with an expected ending balance of $672,431.
The capital projects fund has a beginning balance of $8,190,000 and will take in another $1,738,230. After spending the money for the gym modernization and the new school building, the fund will be left with an expected $4,257.
The district's transportation vehicle fund has a beginning balance of $34,299 and expects revenues from bus depreciation and bus service to bring in $40,400. The only expenditures listed on the budget is a symbolic $1, which will leave the fund with a healthy ending balance of $74,698.