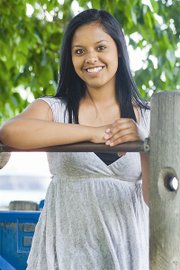 Finding herself wanting to give back to the community, Kiana Ramos decided she could fill that desire and further develop her leadership skills through the Miss Sunnyside Pageant.
If selected for the 2010-11 crown, she would like to work with the Go Active program at Harrison Middle School.
"I am sometimes shy and really want to improve my leadership skills...I feel Miss Sunnyside is seen by younger students as a role model and the Go Active program promotes healthy activity," Ramos shared, explaining youngsters today need someone whom they admire. They are easily influenced by the decisions of those they look up to.
She is further developing her leadership skills through leadership class and Link Crew in the coming school year, but is also a volleyball and tennis player, as well as a cheerleader for the Sunnyside High School Grizzly basketball season.
Ramos feels she will bring with her some of her leadership skills to the Miss Sunnyside court and younger students will be further moved through her efforts to promote healthy activity if she serves on the court.
"Kids already see Miss Sunnyside as someone who is pretty and healthy...they see her as someone they can trust," she explained, adding she has seen and learned about the obesity issues our nation faces.
Rather than sit back and let others deal with the issues, she feels her athletic background gives her the perfect foundation from which to draw.
"I want them to learn healthy lifestyle habits through physical activity to promote their overall well-being," shared Ramos.
She said many of today's youth have not been provided healthy alternatives to gangs, but the Go Active program will help them learn there are alternatives, such as sports and other activities.
"By helping our youth, I believe I will be promoting a healthy community (also)," noted Ramos.
Ramos is the youngest daughter of Evalani and Reynol Ramos. She has two older sisters, Malialani and Alexis, but is the first to seek the Miss Sunnyside title.
She will be performing a hula dance to "He Mele No Lilo," a traditional Hawaiian song.
"The story behind the dance is about an emperor's wife," Ramos explained, noting the dance is her way of carrying on the traditions of her mother's family.
In school, she enjoys biology and she aspires to one day attend either Penn State or the University of Washington to pursue a career in psychology.
"I like to talk with and help people with their problems," Ramos shared.
Sponsoring her for the Miss Sunnyside Pageant are Bon Vino's Bistro and Bakery and Sunnyside's Les Schwab Tires.