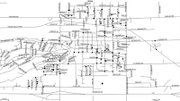 There is a reason most community forums, educating people about the gang issues faced in Sunnyside, are targeted at parents.
The Sunnyside School District has in the past provided statistics regarding gang contacts with youngsters are highest among sixth graders. The Sunnyside Police Department backs up those statistics, sharing most gang members are juveniles.
"This past year," shared the school district's public relations director, Curtis Campbell, "...the number of contacts with students jumped to seventh grade."
Currently, the Sunnyside Police Department has documented 86 gang members dating back to 2006. The numbers are higher, according to Deputy Police Chief Phil Schenck, but staff has yet to update the names of known gang members.
Of those documented, however, only 20 are adults.
"The Sunnyside Police Department has also contacted 150 more gang members from surrounding cities," shared Schenck.
He said 16 of those documented are adults. That is only about 10 percent.
When asked why the juvenile numbers are so high, Schenck said he believes adults are easily held accountable for their behavior.
"Juveniles are not so easily held accountable because their activity is dealt with through the juvenile justice system," he added.
Because of this, many of the recent changes in law enacted through the legislature are not as effective in Sunnyside, according to Schenck.
"The laws primarily deal with adults," he explained.
Campbell said the three to four percent of those students referred to administrators for discipline are related to gang activity.
"We have a very tough stance against gang activity in our schools," he noted.
There is a zero tolerance policy in effect in the Sunnyside School District, said Campbell.
Because gang issues are a community-wide problem, the school district works with the police department, exchanging information and developing ides to eliminate gang activity incidences.
"While virtually none of the violent gang activity that occurs in our community happens on school grounds, we recognize that it is really a community issue," Campbell continued.
Campbell added there are various groups in the community, including the schools, the police department, the hospital and Sunnyside's Promise who have partnered to implement strategies to reduce the impact gang activity has on the community. "The more organizations and people involved in helping solve the problem, the bigger the impact will be," he commented.
What Sunnyside police and the schools hope is that more parents will become actively involved in the lives of their children, taking note of the friends in their children's lives and the habits of their daily routines.
Both the schools and the police department have resources for parents concerned about their child's behavior. There are tips available for parents, giving them guidance regarding what warning signs to look for.
Sunnyside Police Department Public Information Officer Charlotte Hinderlider noted it is important to know where your child is and with whom they are spending time.
"Make sure you are a positive influence in your child's life," she advised.