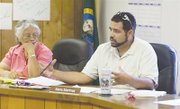 MABTON - In a sign that the Mabton city government is humming along nicely the Mabton City Council conducted its business in a very efficient five minutes at last night's meeting.
The council opted to pay some bills and to increase funds the city has in a Yakima Valley Conference of Governments account.
The city of Mabton has an agreement with the Yakima Valley Conference of Governments for professional services. Money for these services is deducted from an account Mabton has and the balance was getting low. To fix this the council voted last night to increase the balance by $3,000 to cover any additional hourly services which may be required.
The council also paid the monthly bills for the city. Council approved claim checks in the amount of $21,180 and payroll claims in the amount of $12,010.
Mabton Police Chief Rick Gutierrez released crime statistics for the month of June. In the documentation it states the Mabton Police Department had 79 calls for service and seven arrests.
Of those 79 calls four were alleged thefts and one was a burglary.