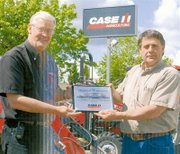 Farmers Equipment Company, which has a location in Sunnyside, was honored by CASE IH recently for 75 years as a dealer.
In 1935 Farmers Equipment, which also has locations in Lynden and Burlington, began as a dealer for McCormick-Deering, which eventually became International Harvester and most recently Case IH.
"A lot has changed in 75 years, but one thing that will never change is Farmers Equipment Company's commitment to providing great products along with great customer service," said Case IH President Ken Stremler.
Added Ron Schauer, manager for the Sunnyside store, "Case IH recognizes that having strong, long-time dealers like us builds customer confidence in their products."
Farmers Equipment Company in Sunnyside is the authorized Case IH dealer in Yakima, Benton and Klickitat counties.