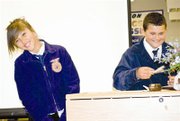 MABTON - Late last week the Mabton High School FFA chapter hosted an awards banquet to recognize the accomplishments of its members and the support of the community.
The chapter's officers for 2010-11 were also announced at the dinner event, catered by Sunnyside's El Conquistador.
In the absence of chapter President Karen Mendoza, Vice President Nohemi Mez led the banquet in prayer before those gathered enjoyed chile verde with rice and beans.
Also served to those gathered was a cake made by one of the chapter members.
Special recognition during the awards ceremony was given to several businesses and community members for donating time, materials and support in an effort to assist the Mabton FFA members with various projects completed throughout the past school year.
Community member Daniece Roettger was the Honorary Award recipient.
Chapter member Ty Lyendekker announced the award, stating, "Daniece has donated countless hours in the greenhouse to help teach students how to propagate and transplant. She has come in every weekend on her own time to water and trim back plants. She helped organize the FFA plant sale, and she worked helping students to sell their plants at the annual sale...the plant sale would not have been so successful without Daniece."
Those given special recognition for supporting the Mabton FFA chapter also were given their choice of plants to bring home.
Before the evening ceremony concluded, the new officers were named. They included Karen Mendoza, president; Rhapsodi Escobar, vice president; Ty Lyendekker, secretary; Baylie Tyus, treasurer; Nohemi Meza, reporter; Yesenia Meza, sentinel; and Dallas Tyus, junior high representative.