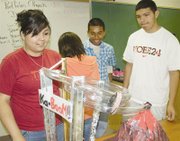 Last Thursday, students in Chayne Ibrahim's freshman classes got the opportunity to learn science in a very creative manner.
Ibrahim's second, fourth and fifth period classes built rubber band cars to race in the auxiliary gym.
Students had to use their own material in creating their car, which had to travel, without assistance, at least 3 meters and in a straight line.
The cars were large and small, made from wood and cardboard; some worked, some did not.
But the principles behind the cars were well learned. Ibrahim taught her students about velocity, acceleration, friction and other critical scientific principles.
Students in Ibrahim's first period class had a different project to tackle for the end of their freshman year.
Ibrahim's students were given the task of building a roller coaster. The requirements for the rollers coasters were stringent and students had to work in teams to finish their projects.
Each roller coaster had a name and theme, and the details were specific. The roller coaster had to start on a hill, feature two loops, two other hills and some special features, such as a corkscrew.
The roller coaster car, which was a ball, had to travel the distance without assistance and the coaster had to be portable and stand alone.
Each team had a chance to showcase their coaster before the class and they recorded their findings, which included how fast the coaster traveled, on the board.
For this project, students learned another batch of important scientific principles, which included G Forces, acceleration, inertia and centripetal force.
Each group member had very specific and detailed roles to play, too. There was a researcher, an engineer, a designer and a record keeper.
There were successes and setbacks with each class, but in the end the students had fun and learned all about what makes things go.