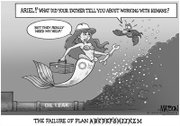 My recent three-day weekend started with one of the more menial household chores, a trip to the transfer station - or the dump as it was called when I was a kid.
As a one-car family we've had to be creative about what we call dump runs, trying to stuff as much as we can in the car while still leaving a small porthole to be able to look out the back window.
Saturday's run was different as a neighbor offered me the use of his truck to make the trip.
That was nice and allowed me to make the most of the trip to the transfer station.
Now I'm slow at packing a dump load to begin with and it took me awhile to get the truck loaded and the tarp secured over the load.
I'd like to say I secured my load to be a good neighbor, that's true in part, but the main deal is the fee you're charged at the dump for an unsecured load as well as the penalty if you lose the load in transit.
I took my time and the load handled nicely, which is more than I could say for the pile of clothes that had fell off someone else's truck onto the Yakima Valley Highway from an ill-fated dump run.
Even scarier, I saw a motorist make a sharp turn onto the dump road, while texting someone and with a couch hanging out of his truck bed to boot.
But I digress, the truck made for a nicer trip - and a better use of dump dues - than our regular car.
There was even more neighborliness when I got to the transfer station and found the appointed place to unload my stuff.
After I slooowly backed up the truck - I'm pretty slow about backing up rigs that are much bigger than our puddle jumper - and lowered the tailgate I started gingerly unloading the truck.
You see, I'm not only slow about packing but unpacking, too. Same was true of my efforts at the dump.
A truck with a couple of guys pulled up next to me after I got there. While I was still lumbering through my load removal, the guys next to me were done quick as a snap.
Suddenly one of them approached me and my neighbor's truck. I didn't know the guy from Adam, nor did he know me, yet he asked, "Can I help you?"
You'd think I would have shouted a big hearty yes...but I hesitated...I'd never seen this before.
I hesitated to be sure I heard him correctly. You see, dump runs are a necessary evil to me and I couldn't imagine anyone wanting to extend their stay.
As I finally said yes, he smiled and told me it would go quicker with the two of us and we could all go home sooner.
So he jumped into my neighbor's truck bed and with gusto started throwing out the stuff it had taken so long for me to load.
Just like that it was all done. He jumped out of the truck and I thanked him and zoom he was off on the rest of his Saturday adventures.
I didn't get his name, but I'm still thankful for his neighborliness even though he didn't know me. Not only that, but the gusto and smile with which he went about helping left an impression on me too.
In addition to thanking my neighbor down the street, I'm thankful for the valley neighbor who came to my aid at the dump.
If you're reading this and you're the one that jumped into the pick-up truck to lighten my load, all I can say is thanks again and just know dude that you are my dump hero!