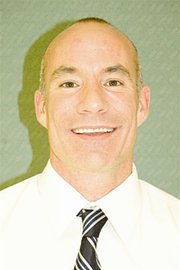 Being forced out of the high school principal's post has turned out to be a good thing for Brian Hart, who was recently hired to be the district's assistant superintendent effective July 1.
Hart's ouster was mandated by a $2 million federal grant that required the district hire a new high school principal to address low graduation rates and WASL scores.
Hart replaces assistant superintendent Gary Vegar, who has resigned the post effective the end of this month.
Superintendent Dr. Rick Cole said four finalists were interviewed for the post, which is now called the executive director of curriculum, instruction and assessment.
"Brian was clearly the top candidate," Cole said.
The district had initially considered naming Hart to a newly created position, one in which he would have oversaw the high school and two middle schools.
That position would have been funded through a three-year federal school improvement grant that will total $2 million.
But with Hart hired to replace Vegar, Sunnyside school officials aren't sure if they'll now hire someone to oversee the secondary schools.
"The board is still very interested and the funding for the position is still there," Cole said.
But it's not a slam dunk at this point.
Cole said there is a possibility the $105,000 allocated for the secondary school overseer position will instead be used for professional development for high school staff to help meet requirements of the school improvement grant.