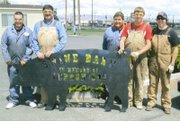 At one point the Sunnyside School District feared it might have to let go up to 40 employees due to state budget cuts.
The good news is that so far the district has been able to keep most of those jobs.
But that's little comfort to the 17 district employees who have been laid off so far, what the district calls "reduction in force."
Of the 17 employees receiving pink slips at the end of the school year, 10 are para-educators. They include Alexander Lopez, Laura Perez, Herminia Garcia, Patricia Guizar, Abigail York, Rodney Coder, Carolyn Shifflett, Celia Pedroza, Veronica Herrera and Ibelia Avalos.
The remaining employees let go so far are home liaison Juan Carlos Correa, sign language interpreter Shelby Vanderpol, braillist Ryan Dawson, school nurse Teresa Layton, art teacher Jana Whitfield, middle school teacher Nohemi Soto de Marquez and special education teacher Rachel Fernandez.
Outlook, Washington and Chief Kamiakin elementary schools are hardest hit with three lay-offs each.
Superintendent Dr. Rick Cole said the decision on who stays and who goes is based solely on seniority in keeping with union labor contracts.
While Sunnyside classrooms are feeling the pinch of budget cuts, other areas of the district are untouched so far.
For example, the closest the district has come to cutting administrative staff is a decision to not fill the maintenance facilities director position when Braven Bendzak, who currently holds the post, retires next April.
But that's far from an involuntary lay-off and so far there have been no school administration or district office pink slips issued.
Cole says that will change.
He noted the district is at work on a re-organization plan required as part of a $2 million federal school improvement grant.
That means a few of the employees let go might yet find work in the district.
But it also means that pink slips are likely in the offing for a few district office and administrative employees.
Cole says the list of employees being let go will be updated again at the Sunnyside School Board meeting set for Thursday, June 24.