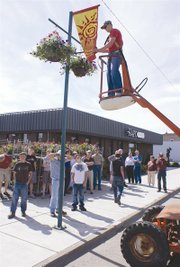 The dream of hanging flower baskets hovering above the Sunnyside downtown streets has come to life.
Sunnyside downtown property owners and merchants involved with Sunnyside Transformation have been looking at projects that would improve the community.
The first step to giving the projects life was taken when the Uptown Sunnyside Association was revived.
The group was organized approximately 15 years ago to beautify the retail core in downtown Sunnyside.
The vision was to plant trees along the streets, assist and encourage merchants to place wine barrel flower containers in front of businesses, and purchase and place trash containers on the sidewalks.
The idea devised is meant to make downtown Sunnyside more attractive, according to Bill Flower, a member of the Uptown Sunnyside Association.
The flower baskets hung this past Tuesday are an extension of the organization's efforts. The Uptown Sunnyside Association was also instrumental in establishing Centennial Square.
A couple of years ago the group went through a reorganization process. The first visible project that resulted from that effort was the pruning of trees along the downtown corridor, making properties more visible.
The hanging baskets are the second project envisioned since the reorganization. In addition to the baskets, Uptown Sunnyside Association will add banners to the stands from which the flowers hang.
It is a collaborative project involving the city of Sunnyside, the Sunnyside High School fusion class, Canam Steel, Sun West Growers and Cliff's Septic Tank.
The high school's fusion class, under the direction of welding instructor Tom Dolan, built and installed 70 stands from which to hang floral arrangements and banners.
The city of Sunnyside and property owners and merchants of downtown Sunnyside provided the funding for the project.
The project came to fruition earlier this week as the floral baskets were hung, making the downtown corridor a place for visitors and community members to enjoy this coming summer.