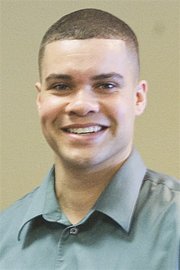 From the ghetto of Albion, Mich. to Sunnyside's new community center director, the road London Wilson has traveled to reach his current destination has been one filled with grand obstacles navigated with determination, perseverance and guidance from his family and faith.
According to modern statistics, London Wilson should either be dead or sitting in a jail cell. Fortunately for Sunnyside, Wilson sees those types of challenges as the thing that keeps him going.
As a 29-year-old bi-racial man, a mix of Caucasian and African American, Wilson says influences in his early life gave him the strength he needed to succeed.
The first was his family. Wilson's single mother worked hard to keep her two sons in school and on an honest path. Not an easy job, Wilson says, for a woman raising two bi-racial sons in a town and society that allowed itself to fall victim to social and economic discrimination.
But Wilson's grandparents were ready to carry their grandchildren further than his mother thought she could. Wilson says that he grew up in various locations around the United States as jobs and opportunity pulled his grandparents from state to state.
Wilson graduated from Sparks High School in Reno and went on to play basketball at Sierra College in Sacramento. It was there that Wilson was recruited for the 2001 season by Yakima Valley Community College Coach Cody Butler.
It was also there that Wilson met, and would eventually marry, Hilary Berg, a Sunnyside native.
After finishing out his education at the University of Nevada-Reno in 2004, Wilson returned to the Yakima Valley. He worked for Berg's father, learning the tough life that comes with farm labor.
Eventually, Wilson went on to coach at YVCC. He married Berg and together they have two young daughters, Paris, 6 years old, and Siena, 8 months old.
Wilson credits his strong family influence and his religious background for why he did not fall victim to the streets, but he also emphasizes that basketball not only provided him with the experience he needed for the job he is about to undertake in Sunnyside, but it gave him a proper education.
Wilson credits his experience with basketball for providing him with the work ethic, discipline and drive to succeed as an adult. He has played in five ESPN televised basketball games and is actually the basis for a character in the NCAA 2001 and 2002 video games.
Wilson says that sports put a positive pressure on him to succeed and it is that philosophy he hopes to bring to the people of Sunnyside.
This June, the Sunnyside Community Center will reopen with Wilson heading it up.
The job came about quite on accident, Wilson said. He contacted Mark Baysinger at Sunnyside's Promise about the possibility of starting up a sports program. After listening to Wilson's ideas on how to utilize the community center, Baysinger asked him if he would like to be the center's director.
Wilson elected to take on the challenge, feeling as though this were an opportunity to do some good and make a real difference.
And Wilson has big plans for Sunnyside.
"I want to see this community center alive," says Wilson, who can already see the rooms teeming with children and adults.
With the idea in mind that the community center needs to be an actual center for the community, Wilson will look to provide a variety of programs for both children and adults.
Right now, the center will open with select hours being reserved for certain ages. Children between the ages of 3 to 5 will have their time from 9 to 11 a.m. Children from 6 to 11 will share their time from 9 a.m. to 12:30 p.m.
Meanwhile, young adults from 12 to 17 will have run of the community center from 1 to 5 p.m. After 5 p.m., Wilson hopes to hold classes for adults.
Wilson is also hoping to create an inter-community sports league. Starting with softball, Wilson is looking to get community members from various businesses or services, such as local restaurants and the police department, to form a softball team.
These teams will play against each other, Wilson said, and against a young adult team.
He can see it already. He can feel the thrill high school students will feel when they get to play a softball game against their teachers.
"Kids are what brings everyone together," Wilson shared, stating the everyone either has a child or knows a child that is important in their life.
And that is who Wilson will need to make this community center a success. He says that everyone must work together toward the same goal.
"One team plus one goal equals one result," he said. "If the team isn't working toward the same goal it won't work."
And the goal here is to turn the city of Sunnyside into a place that everyone can be proud of.
Wilson has the plan, now he needs the people.