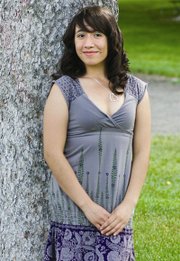 Sunnyside High School sophomore Alejandra Calderon wants to make a difference in her community and she wants her voice to be heard.
She shared her interest in the Miss Sunnyside crown came about when she witnessed current and past court members gaining recognition for their efforts in the community.
"It seems people listen to representatives of the community," shared Calderon, stating she wants to promote awareness of Sunnyside's Washington Migrant Council pre-school program.
She enjoys working with youngsters there and feels the community has little knowledge of the program and its benefits to youngsters in the community.
"I have a younger sister who attended the pre-school and she shared with me how pretty the Miss Sunnyside court members are when the court read books to students at the school," Calderon shared.
That furthered her resolve to become a court member herself. She felt if her younger sister and the other students in the pre-school program were paying attention to the Miss Sunnyside court, that would be a way in which she could be a positive influence on youngsters, as well.
Calderon said her desire to become a court member, however, stems from when she was young herself. She wanted to be in a pageant "...just like every little girl."
"I also want to show others to step out of their comfort zone and try something new...I mean I have had to knock on strangers' doors, asking them to buy tickets," shared the Miss Sunnyside candidate.
If chosen to serve as Miss Sunnyside, Calderon wants to volunteer at Sunnyside's Washington Migrant Council pre-school, reading to youngsters and interacting with them.
"I want to help them learn positive choices can lead to success in life," she shared.
She said she has seen the results of students failing in their education. She has seen students drop out of school and choose lifestyles that are not positive as a result of being disadvantaged.
"I also want to work with the parents of the pre-school students, helping them learn the importance of their role in their children's lives," shared Calderon.
In the coming school year, she will be attending Running Start, giving her an edge toward pursuing a degree in medicine. Calderon said she would like to one day become a pediatric surgeon.
She is involved in Pep Club, Link Crew and the Sunnyside High School wrestling program. She is a volunteer at Washington State Migrant Council and is the assistant ASB treasurer at SHS.
Calderon is the daughter of Alejandro and Luisa Calderon. Her younger sister, Clarisa, is in third grade.
Her sponsor for the 2010 Miss Sunnyside Pageant is Sunnyside Inn Bed and Breakfast.